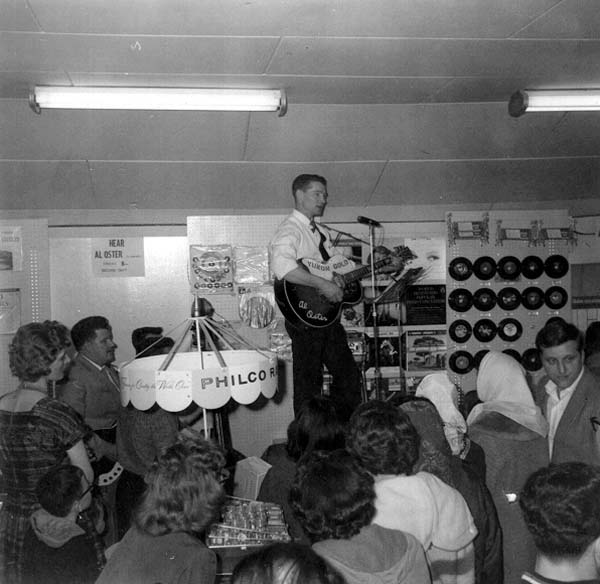 Al Oster performing at Hougen's Department Store in 1961. Photo: Rolf Hougen/Hougen Group of Companies.
Al Oster sang about many aspects of Yukon life over the years, and became a member of the Order of Canada for his efforts.
A beloved Yukon musician has died.
Family members confirm to CKRW, Al Oster passed away on the weekend at the age of 92.
Oster, who lived in the territory from 1957 to 1975, wrote countless songs about Yukon over the years, with one of his best known, and most played called 'Paddlewheeler'.
According to a Yukon Nugget compiled by Les McLaughlin, 'Paddlewheeer' was his favourite song to perform because of how easily the lyrics flowed together.
The country and rock singer had one of his songs, "My Book of Yukon Memories", reach number 30 on the Billboard charts.
He performed many times with another local musical legend, Hank Karr, who says one of his most notable performances came during Expo 67 in Montreal.
"It was fast. Like, you know we did a 45 minute stage-show. Al did a portion of it and me and my band did a portion of it. It was a great experience to a big audience that we hadn't really enjoyed before. That was a big thrill in my life."
Karr says Oster was also a great song writer.
"His writing abilities, his music, touched by a lot of people. I recorded an album of his music. He's a great loss with his Yukon material."
Oster was admitted to the Order of Canada in 1999.