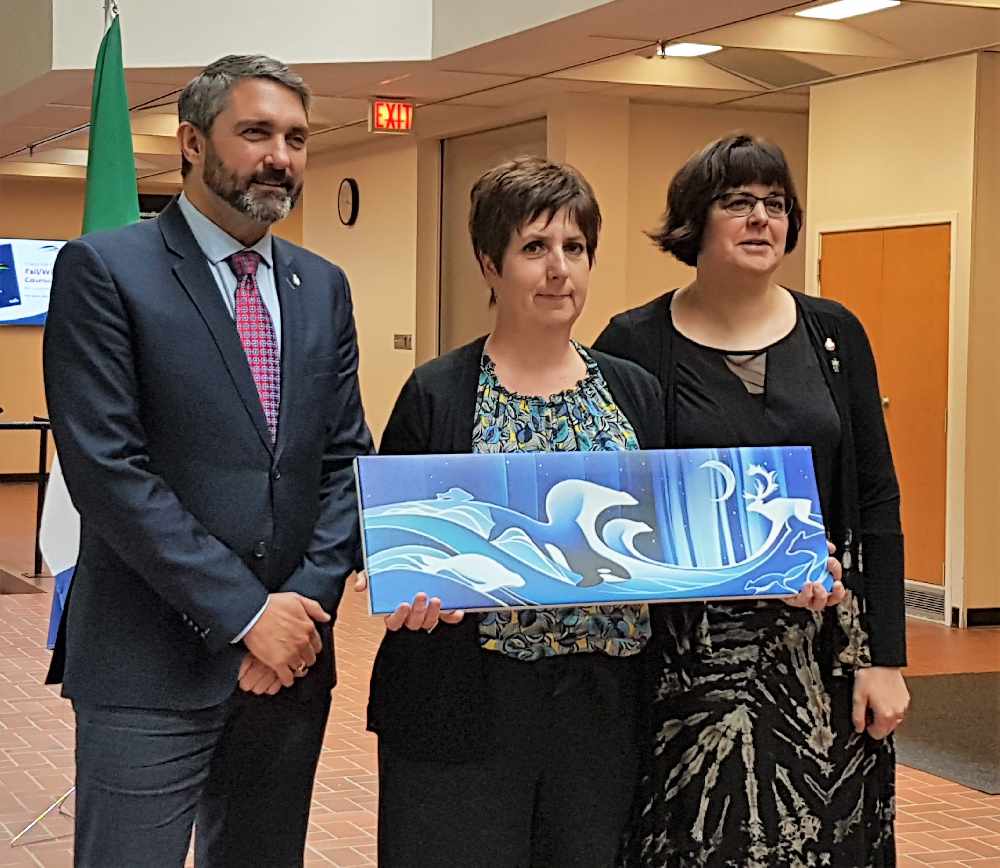 (L to R) Premier Sandy Silver, Isabelle Salesse, and Commissioner Angélique Bernard at Tuesday's presentation. Photo: Tim Kucharuk/CKRW.
For her extensive work with the Association franco-yukonnaise, Isabelle Salesse is this year's Council of the Federation Literacy Award winner for Yukon.
A longtime proponent of the French language in Yukon is the recipient of this year's Council of the Federation Literacy Award for the territory.
Isabelle Salesse was presented a medallion by Premier Sandy Silver at a noon-hour ceremony Tuesday.
Silver says the award is extra special because Salesse is the first person in the territory to receive the recognition for working with francophones.
"Isabelle has focused on literacy in French in minority-language environments." Silver told those gathered in the lobby of the legislature.
"Her work is grounded in the concept that we are all life-long learners. She has supported and contributed (to) the development of french literacy programs and resources both here in the Yukon, but also nationally as well."
Salesse, who has taught francophone reading and writing programs through the Association franco-yukonnaise, says there's still a lot of work to do, noting adult literacy is as important as Early Childhood Education.
"Lots of people can not contribute or participate in their community because of their low skills in literacy, so it's really important to always send the message out their that it's urgent to increase funding for programs for adults."
The award has been presented in each territory and province celebrating achievements, innovative practices and excellence in literacy since 2004.
The big Council of the Federation Literacy Award presentation from @Premier_Silver to #Yukon recipient Isabelle Salesse. pic.twitter.com/QIIZY22uHv

— Tim Kucharuk (@TimKucharuk) September 11, 2018