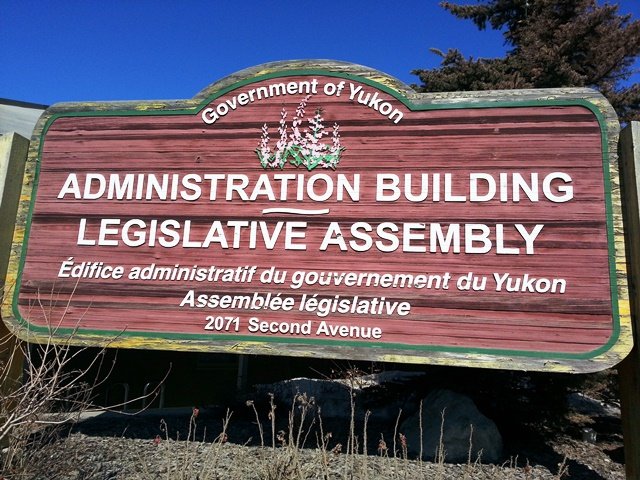 The Yukon Government's Administration Building will be renamed after former Commissioner Jim Smith. The announcement was made in Thursday's throne speech. Photo: Tim Kucharuk/CKRW file.
Thursday afternoon's throne speech to begin the fall session by the Commissioner touted the Liberal government's successes and outlined objectives for the next two years.
The third session of the 34th Yukon Legislative Assembly is underway.
Commissioner Angelique Bernard began the fall sitting with a throne speech on Thursday afternoon. The speech reflected on previous work done by the Yukon Liberal Government and addressed key priorities going forward for the second half of their mandate.
One of those priorities surrounded the environment, as Bernard told the house the government is working on regional waste management systems and recycling. She announced a significant step would be taken to reduce waste.
"Based on the input from Yukoners, your government is also taking a necessary step to reduce and curb pollution," Bernard said. "It will be implementing a ban on single-use bags. These steps are part of our collective work to protect this beautiful place that we all call home."
Staying with the environment, she said the government would work to reduce greenhouse gas emissions in recognition of the ongoing climate emergency, and an energy retrofit loan program to encourage Yukoners to retrofit their homes would be forthcoming next year.
Bernard also announced a ban would be forthcoming on conversion therapy.
"Since coming into office in late 2016, this government has made several changes to legislation, policies, and practices to support a diverse, inclusive society that promotes LGBTQ2S+ rights, equality, and freedom from discrimination." she said.
Other initiatives included changes to the Small Business Tax Credit, and an economic innovation plan.
The speech also outlined several bills to be introduced, including an amendment to the Corrections Act to reform the use of segregation at the Whitehorse Correctional Centre. Legislation to create and govern Yukon University, as well as a supplementary budget were previously announced as forthcoming this fall.
Bernard also announced the Administration Building would be renamed the Jim Smith Building after the former Commissioner and member of the Territorial Council. Yukon's longest-serving Commissioner died at the age of 97 in 2017.
The house will resume the fall sitting on Monday.