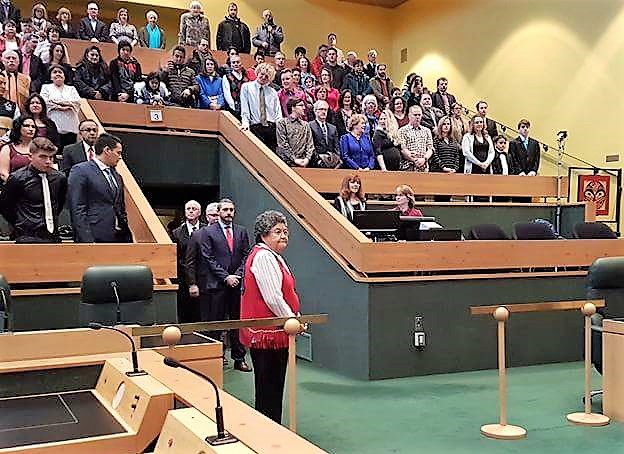 Then Sergeant-at-Arms Doris McLean leads the new Liberal government into their swearing-in ceremony December 3rd, 2016. Photo: Tim Kucharuk/CKRW file.
Karina Watson will fill the role starting March 1st after the passing of Doris McLean.
The Yukon Legislative Assembly has appointed a new Sergeant-at-Arms to replace the late Doris McLean.
The role will now be filled by Karina Watson, who was first appointed as the Deputy Sergeant-at-Arms in October of 2016.
Watson retired from the RCMP after twenty seven years of service first in the B.C.'s lower mainland and then in Dawson City, Old Crow, and Faro.
The role of Deputy Sergeant-at-Arms will now be filled by Harris Cox, who served as a civilian member of the Canadian Armed Forces, and as a federal, and territorial government employee.
The appointment officially begins March 1st when the spring legislative sitting begins.