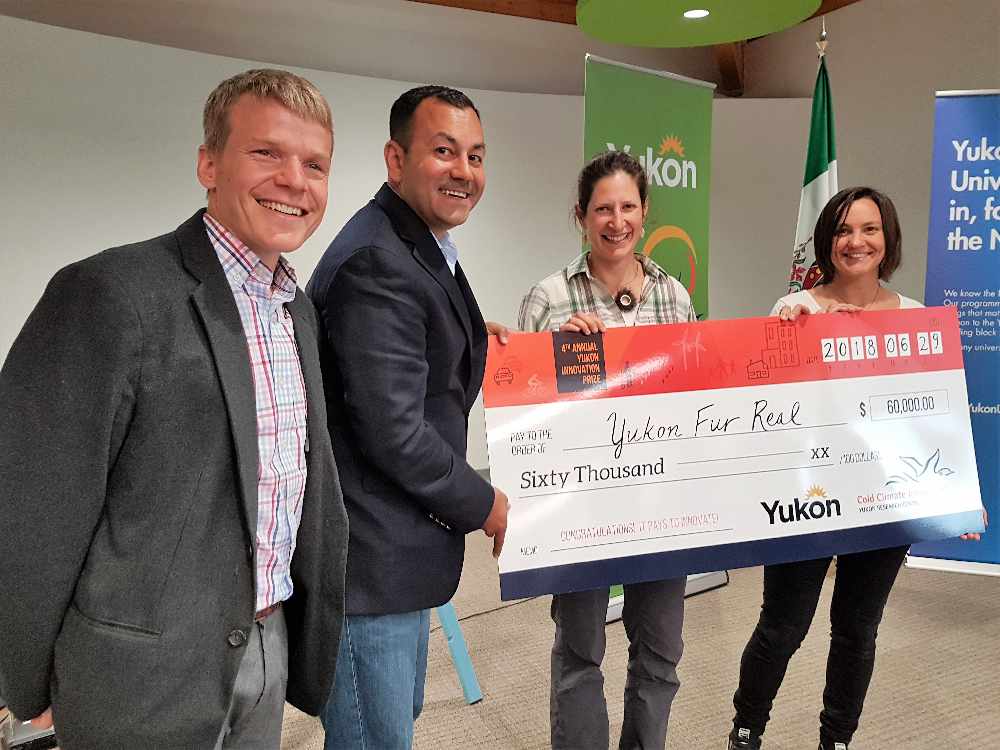 L to R: Cold Climate Innovation Director Harry Borlase, and Minister Ranj Pillai present Lisa Preto and Misha Donohoe with Yukon Fur Real the big cheque Friday afternoon. Photo: Tim Kucharuk/CKRW.
Yukon Fur Real wants to change how the fur industry operates in Yukon, and the prize means their project will continue to the market stage.
A project which looks to shake up the fur industry in Yukon is the winner of this year's Yukon Innovation Prize.
Economic Development Minister Ranj Pillai delivered this year's winners Yukon Fur Real a $60,000 cheque on Friday afternoon at Yukon College.
Trapper and artist Lisa Preto is one of the team members, and says the goal is to connect the fur industry, and artists to produce wild fur and fur products which are ethically and sustainably sourced.
"People should know the background of the choices that they make for things they wear." Preto said.
"Where do the materials that they are wearing come from, and it should be up to people to make their choice, and feel good about the choices that they make."
Team member Misha Donohoe also helped accept the prize.
The project, which was led by Kelly Milner, beat out three others for the award, however, Pillai told those in attendance, his department is open to working with all finalists to further their idea.
The prize is a collaboration between Yukon College's Cold Climate Innovation, and the territorial government's Economic Development department.
For real it's Fur Real: @RanjPillai1 with the announcement Yukon Fur Real is the 2018 #Yukon Innovation Prize winner. pic.twitter.com/JYNjAvTwPc

— Tim Kucharuk (@TimKucharuk) June 29, 2018