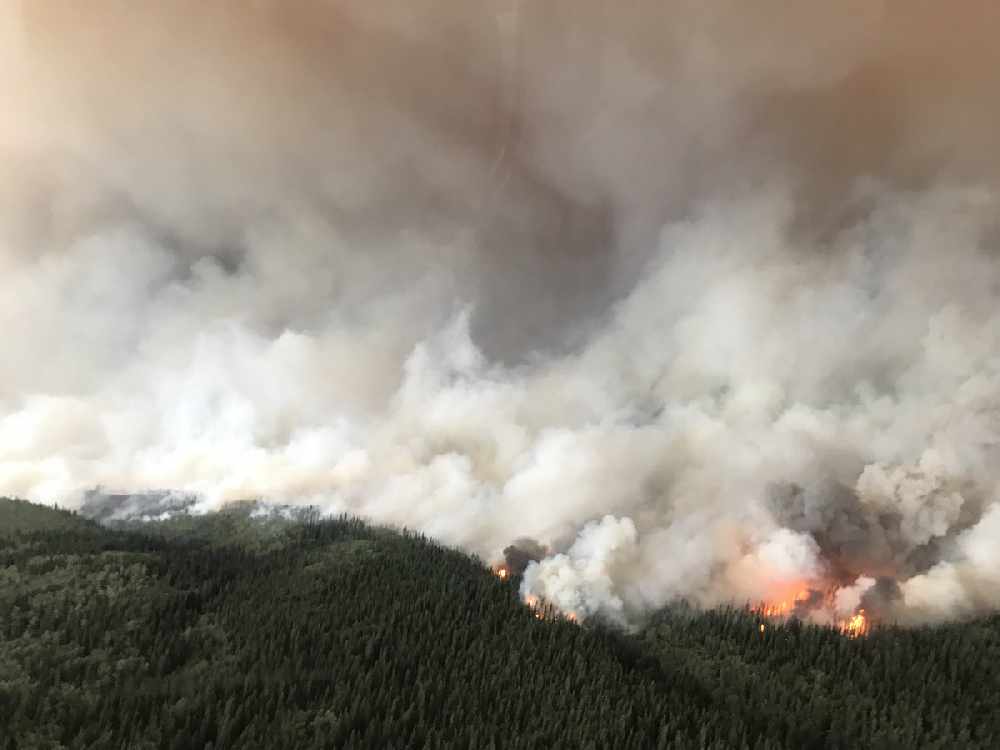 The Stikine Fire is one of two burning near Telegraph Creek. It's close to the Alkali Lake Fire which has burned 27 structures in the community. Photo: BC Wildfire Service.
As the fire situation is precarious in northwestern BC, a fire crew from Whitehorse, and supplies from Watson Lake, and Lower Post arrive in the area.
The BC Wildfire Service is trying to protect homes and properties in Telegraph Creek, where a wildfire has already destroyed or damaged more than two dozen buildings.
It lists two fires burning in the area as separate blazes, but a local official believes the fires have merged.
The Wildfire Service says one roughly 90-square-kilometre blaze burns nearby the community of 300, while a second fire estimated at 190 square kilometres, burns to the east.
An evacuation alert has also been issued for Dease Lake, in part because of the heavy smoke from the Telegraph Creek-area fires and a third, smaller blaze about 70 kilometres north of Dease Lake.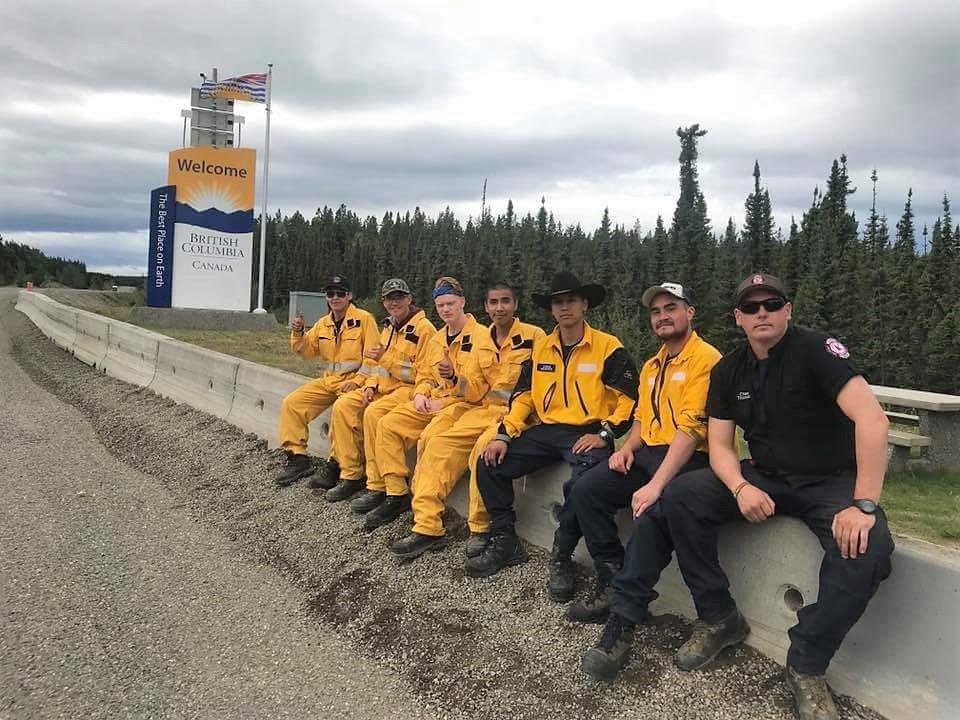 A crew of Yukon Wildland firefighters are expected on the front lines of the blazes burning in the Telegraph Creek area Wednesday.
The Charlie Crew based in Whitehorse is run through the Ta'an Kwach'an Council's development arm, the Da Daghay Development Corporation.
CEO Ben Asquith says the call for assistance came from former MLA Darius Elias, whose parents live in Telegraph Creek, and a seven-person crew was on the road within six hours.
"We got a request from the community." Asquith told the RUSH.
"Right when we got that request, we weren't thinking about money, or any of that stuff, and we just needed to go help our fellow community."
(Inset photo: The Charlie Crew at the BC border Tuesday night. Photo: Charlie Crew/Facebook)
Asquith says the crew is led by Chad Thomas, who is a member of the Tahltan Nation himself, and who personally wanted to go and help his community.
"Everybody is very in shock, and they need as much support as possible." Asquith said.
"Chad spoke with the Chief, (Rick McLean) and the Chief wants to see us on the line, so we're getting on the line."
Asquith thanks the Yukon Government for helping to get the crew on the road so quickly.
Yukon Wildland Fire Management said Wednesday afternoon, BC air tankers are using the Watson Lake airbase for air support, and sending air tankers from the territory into BC when requested.
Support for those displaced by the fires is reaching evacuated residents in Dease Lake thanks to the efforts of two women from Lower Post.
Tanya Ball, and Pamela Moon took action once the severity of the situation was known, getting donations of food, money, and logistical support from Lower Post and Watson Lake residents and businesses.
Ball says some of her family members were at a fish camp near Telegraph Creek, and were one of the first evacuated because of the fires.
"I went in, and realized how close the fire was to the community, and within a couple of days the whole community was evacuated." Ball said.
"I have family there, and it's really close to home, and (it) just kind of kicked in with wanting to help donate, and get things going."
She says the first cube van full of food, clothes, and money was driven south to Dease Lake late Tuesday night by Lisa and Gary Lewis.
"It was a really hard time out there too, because everyone was finding out who exactly lost their houses." Ball said as she's been in communication with evacuees in Dease Lake.
"Everybody (in the Watson Lake and Lower Post area was) coming together, and it was amazing, with the stuff that we got put together."
Ball says more donations are coming in, and a second truck will be sent south when it fills up.
A truck load of supplies were also sent from Whitehorse.
(With copy from the Canadian Press)