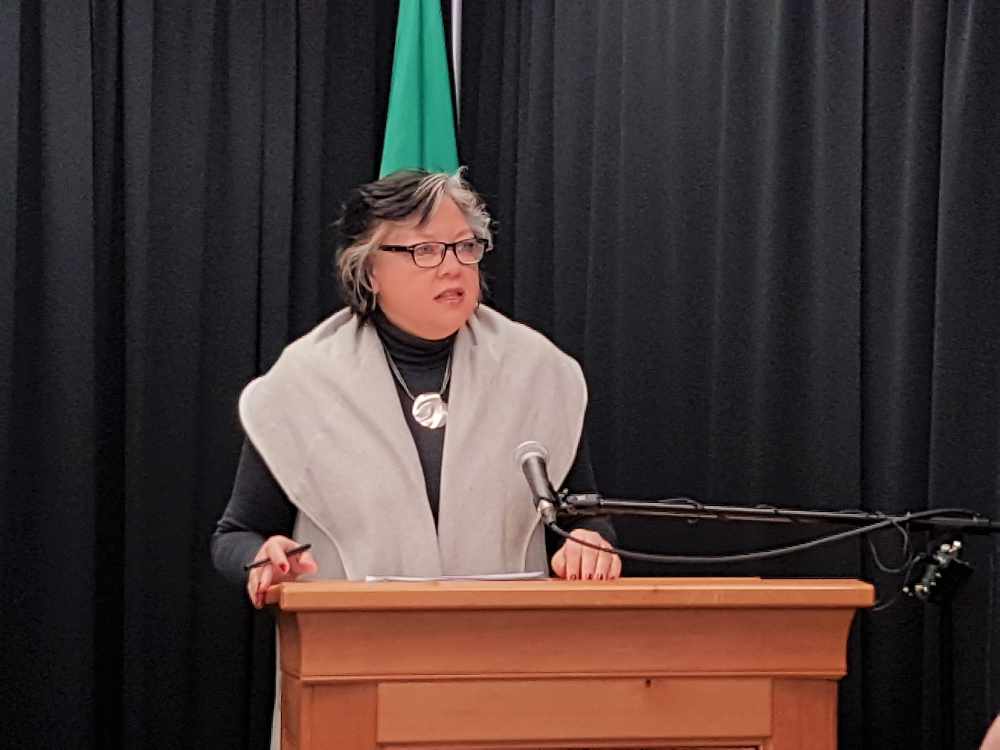 Justice Minister Tracy-Anne McPhee at Monday's briefing. Photo: Tim Kucharuk/CKRW.
Proposed framework follows federal guidelines and public survey, while minister says there's room for more development after marijuana becomes legal in July.
Yukoners are being encouraged to go over a proposed framework regulating recreational marijuana in the territory starting in July of next year.
The framework was released to reporters at a Monday morning briefing.
It calls for the following:
Legal age of 19;
Possession limits of 30 grams;
Four plants to be grown per household;
Government in charge of distribution;
A mix of government and private retail.
Justice Minister Tracy-Anne McPhee says this is a starting point, as the act being developed will reflect the values and priorities of Yukoners and communities.
"It will provide for legal, controlled access to cannabis, but displaces illegal or criminal activity, and it will prioritize public health, safety, and harm reduction, with a focus on protecting youth from the negative health effects."
Laura Lang with Health and Social Services says the framework includes separating alcohol and marijuana sales, as having the two sold in one location is not a best practice within Yukon's health objectives.
"Our goal is to ensure that Yukoners are provided a licit source of cannabis, that the focus is on cannabis." Lang told the briefing.
"The co-location of the two products does knowingly produce great concern as has been noted throughout the jurisdictions in the United States who have legalized cannabis."
McPhee says the first government-run outlet will be open sometime in July of 2018.
She adds the framework allows for the later development of regulations and licensing for private retail.
The framework is open for public comment until December 20th.