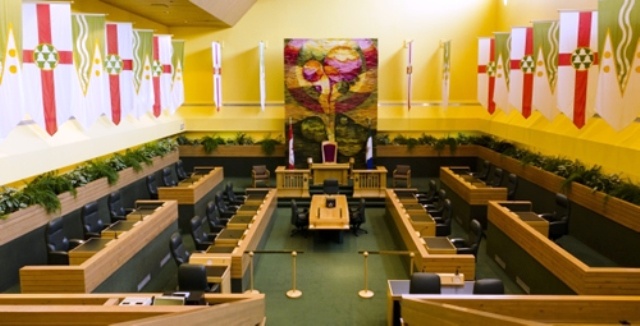 A bill which would have created a 20th seat in the Legislative Assembly has been voted down. Photo: Yukon Legislative Assembly.
All members of the government were joined by Yukon Party MLA Brad Cathers in defeating the Electoral District Boundaries Act.
The Yukon Liberal government is being joined by one member of the opposition Yukon Party in defeating a bill which would have added a 20th MLA to the Legislative Assembly.
During Monday's session of the fall sitting, Bill 19, the Electoral District Boundaries Act went down by a vote of 11 to 7, with all government members, and Lake Laberge MLA Brad Cathers voting against.
During debate, Premier Sandy Silver told the house, there was a difference between the interim and final report of the Electoral Boundaries Commission, and Yukoners were not properly consulted on the change introduced late in the process which would have created the riding of Carmacks-Faro-Ross River.
Silver says Yukoners are not demanding more politicians in the Legislative Assembly.
Cathers says his main concern was a proposed change involving 350 residents of Hidden Valley and MacPherson going from Lake Laberge to Porter Creek North.
NDP leader Liz Hanson, who supported the Bill, says it's highly disappointing the government is rejecting the work of the commission, and are concerned the same government knows best attitude will be brought to an Electoral Reform Commission.