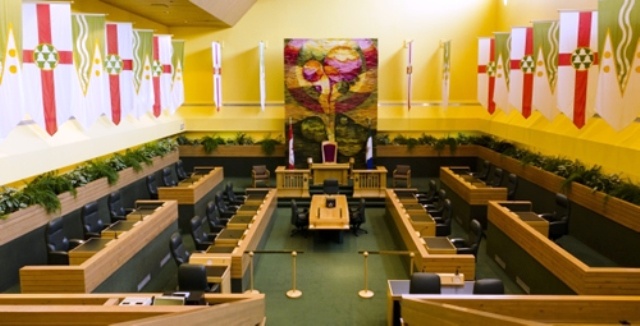 The Legislative Assembly Chambers. Photo: Yukon Legislative Assembly.
Changes to the Coroner's Act, and Equality of Spouses Act highlight day two of the Legislative Assembly's fall sitting.
Under changes to the Yukon Coroner's Act, families will now be able to request an inquest into the death of a loved one.
The changes introduced in the Legislature Tuesday is the first major overhaul to the 60-year-old Coroners Ordinance.
The new act says senior lawyers or judges will preside over inquests.
Other provisions clarifies the duties of coroners, and updates best practices and procedures.
Those include expanding the circumstances of notifying the Coroner's Service of deaths involving children, or those in a government-run facility.
The Equality of Spouses Act also introduced in the Legislature makes changes to nine acts which puts in more inclusive language to make laws non-discriminatory, and inclusive of LGBTQ2S+ Yukoners.
The act also repeals the Married Women's Property Act, as provisions in that act are covered under the Canadian Charter of Rights and Freedoms.