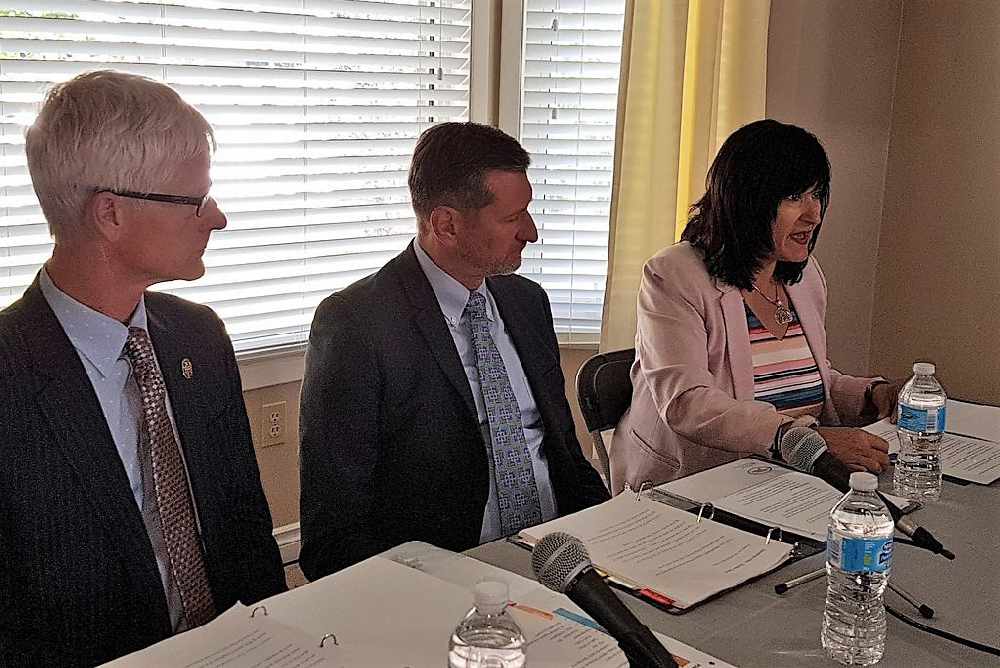 (L to R) Acting Public Service Commissioner Tom Ullyett, Deputy Minister Stephen Samis, and Minister Pauline Frost answer questions from the media Thursday morning. Photo: Tim Kucharuk/CKRW
Health and Social Services Minister, Deputy Minister apologize during release of a third-party report looking into Transitional Support Services.
The Yukon Government is admitting they were wrong in their initial findings, and there are merits to media reports alleging proper care was not administered in youth group homes.
CBC Yukon first put the spotlight on cases of wrongdoing stemming from two incidents in 2016 where a youth was asked to leave a group home on short notice, and another was not allowed into the building on a chilly December night.
Health and Social Services Minister Pauline Frost told reporters at a Thursday morning media briefing, the results of a third-party review done by Vancouver Lawyer Pam Costanzo confirm the cases happened.
Frost says she takes responsibility for the way the situation was handled by senior staff.
"I'm here today to apologize and say under our government, the days of overcrowded group homes in Yukon are over." Frost told reporters.
"Our government will not let the system return to the state of stress and overload that existed in 2016 and brought us to where we are today."
Deputy Minister Stephen Samis confirms he's accepted the resignation of Assistant Deputy Minister Brenda Lee Doyle over the incidents, and the employees involved have either moved on, or retired.
He says steps have already been taken to improve what he says was a system in crisis.
"Supervisors and other staff are available on-call, particularly evenings and weekends, when we know things are more likely to occur, that staff will not be left alone in the house." Samis said.
"If somebody has to leave the house, or go from place to place, there will be somebody to come in and relieve them, and be in the home before they have to go out."
The deputy minister says government policy was breached in the two instances under the Child and Family Services Act.
Samis says the government is already implementing the six recommendations from Costanzo, around training, critical incident reviews, and engagement with the two youths on a resolution to the incidents.
The report also recommended the department seek legal advice, and consider apologizing to a youth for public mistreatment.