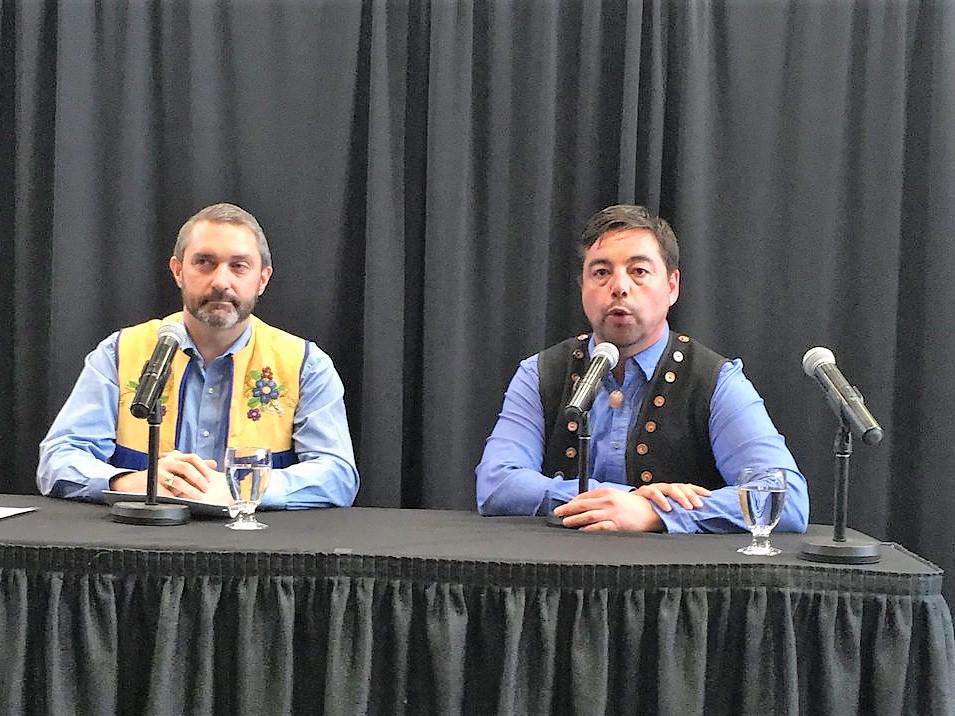 Premier Sandy Silver and CYFN Grand Chief Peter Johnston field questions from reporters after Monday's Yukon Forum in Whitehorse. Photo: Oshea Jephson/CKRW.
First Nations and the territorial government also chatted about mental health during Monday's first get-together of 2018.
The first Yukon Forum of 2018 is in the books, with the Yukon government and Council of Yukon First Nations agreeing on a new deal to clarify resource royalties going to First Nations.
Premier Sandy Silver says the sides have agreed to split a one-time $600,000 royalty payment among the 11 self-governing First Nations.
"In most years, this agreement will result in more resource royalty sharing with self-governing First Nations." Silver told reporters.
"The agreement advances reconciliation between our government, and helps to ensure First Nations benefit from development taking place in Yukon."
CYFN Grand Chief Peter Johnston also says progress is being made to address mental health within Yukon communities, including for children in care, but it's a complex issue.
"Having the ability to have that connection back to your parents is very fundamental. I realize the aunts, uncles, and grandparents play a very intricate part in regards to that success also, but the parents are definitely one of the end goals in regards to that." Johnston said.
"We need to be looking at all aspects that comes to employment and proper housing. There's so many fundamental key objectives that need to be dealt with."
Premier Silver added it's important that individuals returning to communities are in healthy situations.
Procurement, infrastructure funding, and education were also discussed during the forum.