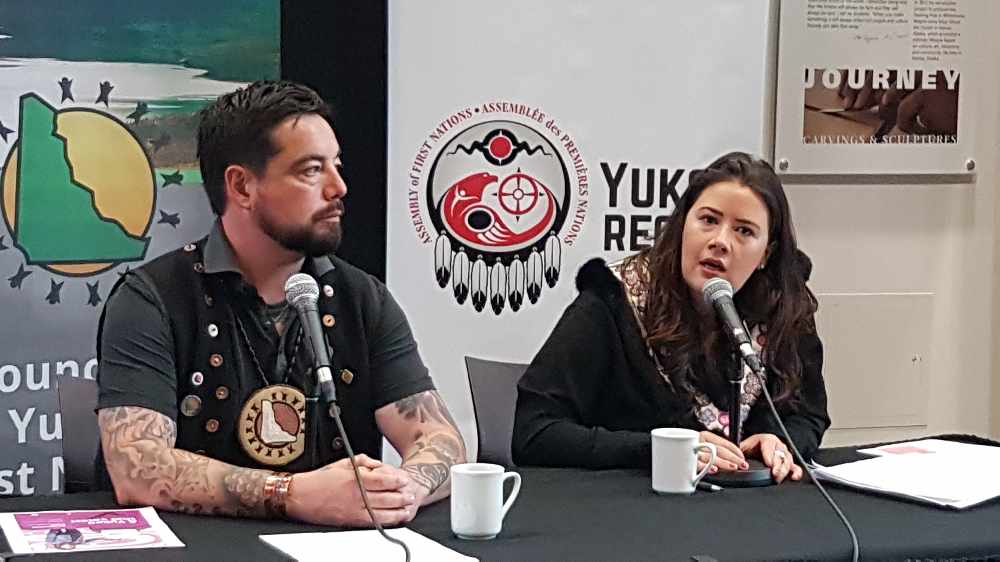 AFN Yukon Regional Chief Kluane Adamek (right) answers media questions during the campaign launch with CYFN Grand Chief Peter Johnston Tuesday afternoon. Photo: Tim Kucharuk/CKRW.
AFN Yukon and CYFN say this election comes at a critical time and a new get out the vote campaign hopes to get more First Nations out to the ballot box.
The Assembly of First Nations Yukon Region and Council of Yukon First Nations are teaming up to get more First Nations out to vote in the federal election.
The two launched 'A Yukon That Votes' campaign Tuesday which is encouraging First Nations citizens to inform themselves about the candidates and to register with Elections Canada.
AFN Yukon Regional Chief Kluane Adamek says the election is important as there are implementation issues with self-governing agreements.
"Certainly from an implementation perspective we hear often at the table, that is so incredibly important," Adamek told reporters. "So how are these parties willing and ready to commit to those commitments made at the time of the signing of the agreement, but as we know, those (commitments) didn't end there."
Adamek says in 2015, 61 percent of First Nations across the country voted and had a big influence in many ridings.
CYFN Grand Chief Peter Johnston says First Nations have their own voice and should be able to make their own choice.
"The ability for us now and where we're at in regards to our legacy as First Nations here in the territory, this might be one of the most important elections (First Nations will be) involved in," Johnston said. "The significance of this election and platforms that the respective parties are going to bring forward will be important for First Nations."
An All-Candidates Forum concentrating on First Nations issues will be held on Monday at the Kwanlin Dun Cultural Centre in Whitehorse.
.@CYFN_GrandChief Peter Johnston says this #elxn43 comes at a critical time for #Yukon First Nations. #cdnpoli #ytpoli pic.twitter.com/uS1AJ67PpZ

— Tim Kucharuk (@TimKucharuk) October 1, 2019