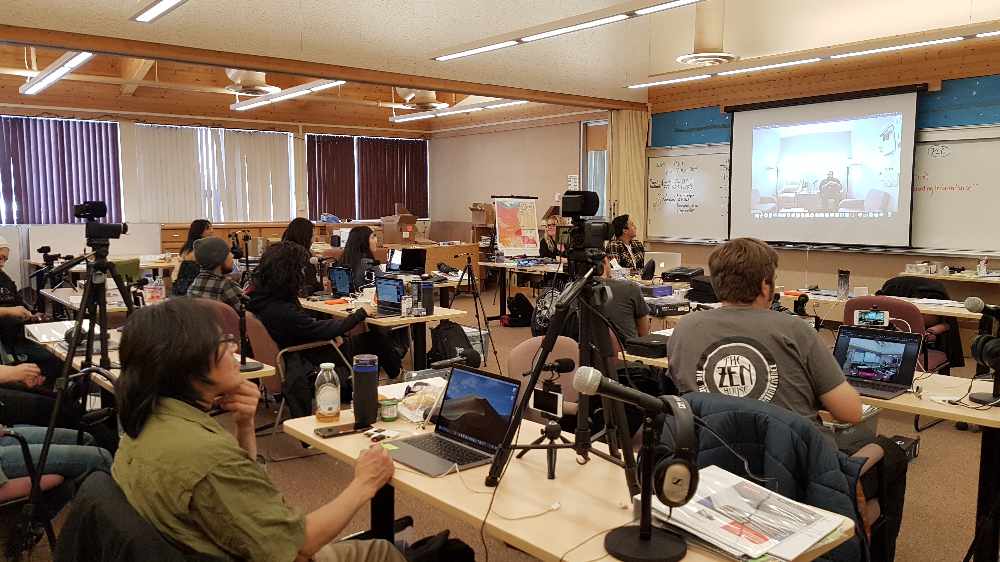 14 members of Yukon First Nations are spending the week learning about how to make videos capturing Indigenous languages. Photo: Tim Kucharuk/CKRW.
14 students are learning the technical aspects of recording stories and conducting interviews to take back to their home communities.
A new language video project which looks to preserve all eight distinct Yukon First Nation Languages is underway in Whitehorse.
Representatives from 14 Yukon First Nations are at the Yukon Native Language Centre at Yukon College this week learning how to run audio-video recording equipment to put together a total of 280 high-quality videos--20 for each First Nation.
Language Centre Director Tina Jules says the project will not only assist in language revitalization and preservation but bring communities closer together.
"It's all about connecting our youth to the elders," Jules said. "Helping them to be together to develop those relationships that are so important for our languages to become stronger and for our languages to be sustainable for future generations."
Council of Yukon First Nations Executive Director Shadelle Chambers says the idea for the project came from First Nations themselves after CYFN took over the Language Centre in January of 2018.
"We heard loud and clear from them that we want to ensure that documentation and preservation of current, fluent speakers were a priority, so it's been identified under our strategic plan," Chamber said. "But also ensuring there are new resources available."
Gary Sidney Johnson is one of the students. He is representing the Carcross/Tagish First Nation in the program.
"We're learning a lot of fun stuff," he said. "I think the cool thing about it is we're being trained so when it's time to pass the equipment on to our First Nations we get to train them and teach them so that it keeps going."
Randel Kendi is from Old Crow and the Vuntut Gwitchin First Nation.
"I can use the skills back home, and I can interview elders," Kendi said. "While we don't have many old elders left, we can use this on the next generation of elders as they have a lot of old stories which were passed on to them. I'll be able to record and translate with the tools that I have."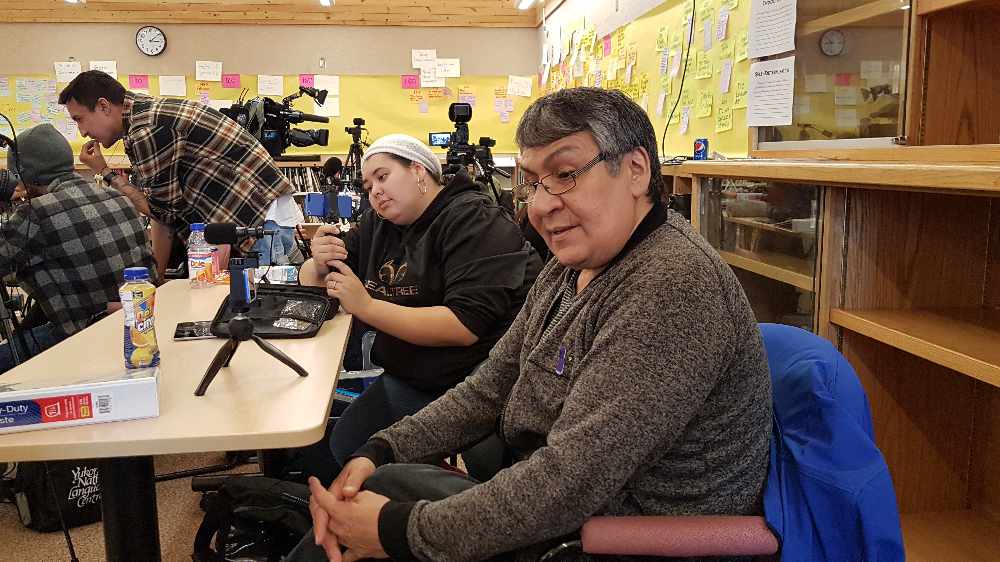 (Kendi speaks with reporters as another student gets a different angle of the interview Wednesday afternoon. Photo: Tim Kucharuk/CKRW.)
Each First Nation will be able to keep the Community Recording Kit. The kit includes an iPod, USB hard drive, Mac Book Pro, lightning dock, digital recorder, camcorder, microphones, tripods, and SD cards. Each kit is worth about $4,000.
It's hoped the videos will be ready by Aboriginal Languages Day on March 31st when they will be uploaded online as part of a celebration by CYFN.
The $315,000 project is a partnership with Yukon First Nations, CYFN, and the Yukon Native Language Centre. There was also funding support from the National Research Council of Canada's Indigenous Language Technology initiative for language revitalization and preservation.
CYFN Executive Director Shadelle Chambers says the idea for the project came from #Yukon First Nations themselves after CYFN took over the Language Centre from YG in January 2018. pic.twitter.com/3sDUorYvNx

— Tim Kucharuk (@TimKucharuk) October 10, 2019