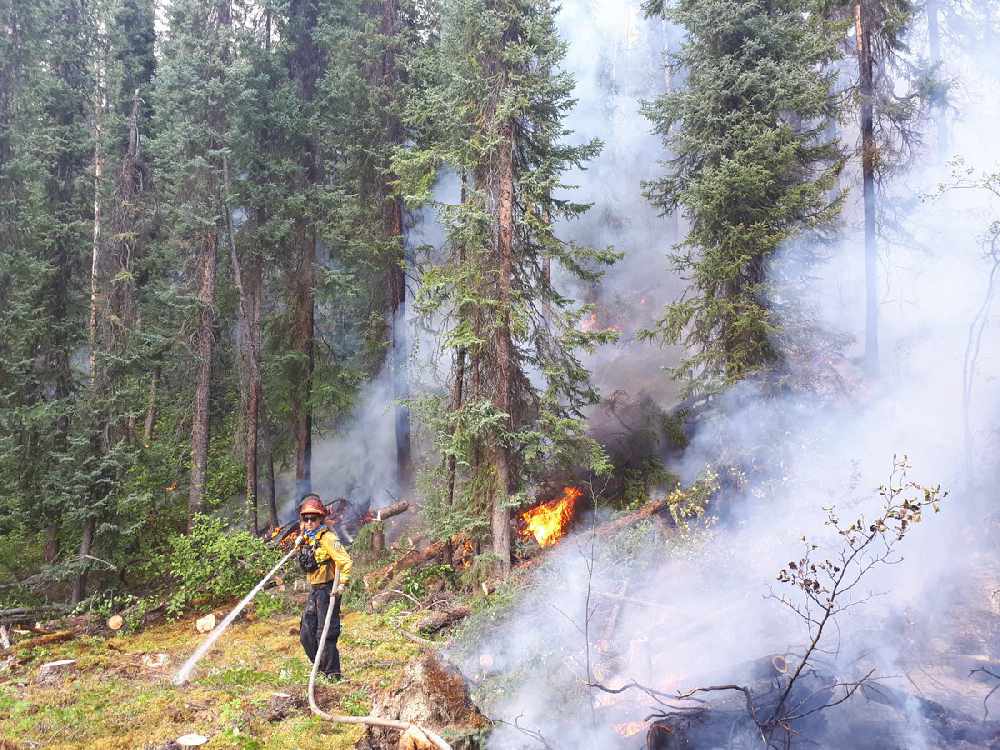 A firefighter takes on the Iron Creek blaze near Watson Lake on the weekend. Photo: Yukon Wildland Fire Management.
Rain is helping blazes in the territory, however, the situation just to the south in northwestern B.C. has many evacuation orders in place, with structures burning in Telegraph Creek.
The sudden turn of the Alkali Lake forest fire in northwestern B.C. has crept into the community of Telegraph Creek.
A video update posted on a special Facebook page called Telegraph Creek Fires had the Tahltan Nation telling members 27 structures had been lost as of Tuesday morning.
Chief Rick McLean says that represents between 35 and 40 per cent of the community of over 500.
The entire community was evacuated to Dease Lake and Iskut on the weekend.
The B.C. Wildfire Service says the lightning-caused blaze was 7,800 hectares, and they have also confirmed a number of structures have burned.
The Facebook Page is also coordinating support efforts for those displaced, with people from Watson Lake and Whitehorse offering to help out.
Meantime, rain over the past day is helping to quell Yukon forest fires, as the number of extreme and high danger ratings have decreased, and the Robert Campbell Highway north of Watson Lake has reopened.
Champagne, Iron Creek, Teslin, Watson Lake, and Rainbow south of Haines Junction are listed as extreme, while Carcross and Jakes Corner are high.
The Poison Lake fire northwest of Watson Lake is over 24,000 hectares and while it is burning one kilometre from the highway, activity is lower as suppression efforts continue.
According to Yukon 511, the highway is open north of Watson Lake, after being closed since late Thursday because of the fire.
The Snafu Lake fire, which was caused by an unattended campfire, is now contained at just under a hectare, while the Windy Arm fire is 250 hectares in size, but is burning in the wilderness and is not a threat.
31 fires are active in the territory, burning almost 71,000 of forest.