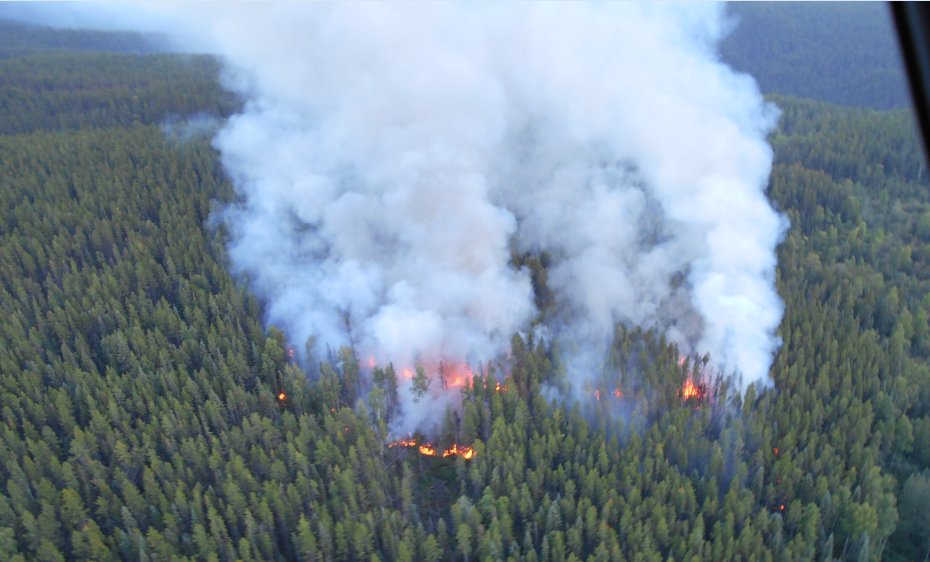 The Iron Creek fire near Watson Lake is one of 26 burning in Yukon right now. Photo: Yukon Wildland Fire Management.
Three new fires have brought the number burning to 26, while an air quality advisory has been issued for Watson Lake.
Three wildfires burning around Watson Lake have resulted in an Air Quality Advisory being issued for the town.
The nearby Poison Lake, Cabin Creek, and Hasselberg Creek fires are contributing to smoky conditions in Watson Lake, however, Wildland Fire Management says the smoke should dissipate as the day goes on.
The Poison Lake fire is now at 14,000 hectares, with increased fire activity on the northeast side of the blaze.
The evacuation alert is still in place for between kilometres 30 and 60 of the Robert Campbell Highway.
The Teslin River fire northeast of Whitehorse is now 1,600 hectares and burning in the wilderness.
The department says structural protection is in place, and smoke may be visible from the Whitehorse area, and impact visibility on the river.
Fires continue to burn in the Dawson region, with smoke visible from the Top of the World Highway, while camping is discouraged by river travelers between Maisy May Creek, and Three Kings Creek, as that's where the Maisy May fire is most active.
Wildland Fire also says there were three new fires reported in the last 24 hours--a small one near Windy Arm, a 150 hectare blaze near Slim Lake northeast of Teslin, and another small one near Blind Lake in the Ross River area.
All new fires garnered a response, and are now being monitored as they burn in the wilderness.
Weekend rain is expected to help douse the flames, but for now, the fire danger rating remains at extreme or high for much of the territory.
Forecasters say up to 10 millimetres of rain could fall in some parts of Yukon on Saturday and Sunday.