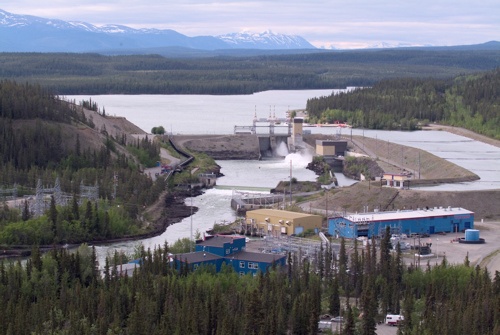 Yukon Energy's Whitehorse operations will be getting six temporary diesel generators this winter. Photo: Yukon Energy.
The corporation says it will have to bring in six diesel generators for the winter to make sure there's enough power in case of a generation shortfall.
Yukon Energy says it's going to be burning more LNG and diesel this winter to cover a power generation gap.
Six temporary diesel generators will be brought in at the Whitehorse plant to help prevent rolling winter blackouts.
The corporation says last year, there was low water at the Mayo dam resulting in lower generation, while this year, water levels are a metre below normal at Aishihik.
President and CEO Andrew Hall says a long-term plan from 2016 identified the gap if the Aishihik plant goes down,
"It's a contingent event that we do have to plan for." Hall said.
"So we know we have a gap under those conditions. So what we're doing is bringing in these diesels to cover off that worse case condition. Our view is it's a temporary solution, we are working on a more permanent solution."
Hall says those permanent solutions include increasing the output of two Whitehorse units, waiting for the government's Independent Power Production policy to come online, and exploring a small-scale hydro dam.
Hall says portable diesels are the only temporary option at this time.
"You can't really find LNG portable units on the market. The LNG technology is new as it's only been around for five or six years so there isn't that fleet of rental units available the way there are diesels." Hall said.
"Diesels are more ubiquitous as they are used by more industries so there is a lot more availability for rentals on the diesel side."
The diesels will arrive later this month, and cost $1.5 million to rent through the spring which the corporation says will be covered under the existing operating budget.