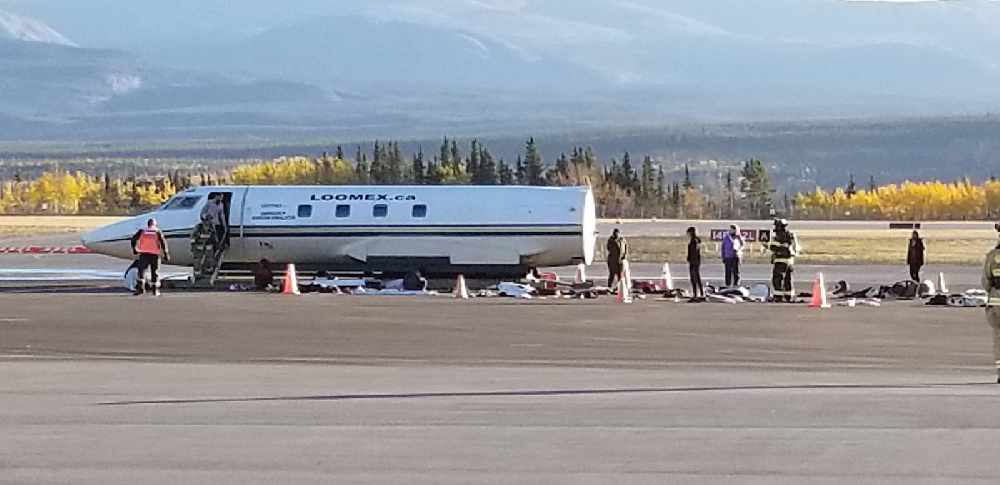 The scene at the Whitehorse Airport Tuesday morning. Photo: John Kennedy/CKRW.
The mock exercise at the Erik Nielsen International Airport in Whitehorse Tuesday morning had various agencies responding to an airplane crash with 62 people aboard.
A mock scene of chaos played out at the Erik Nielsen International Airport in Whitehorse Tuesday.
Airport and Whitehorse fire fighters, RCMP, EMS, the Canada Border Services Agency, and government departments including Community Services and Justice, simulated an aircraft crash to test their skills and communication during a large scale disaster.
Airport Fire Chief Doug Burguis oversaw the operation and says the drill is to help keep all crews aware and prepared in case of a real life incident.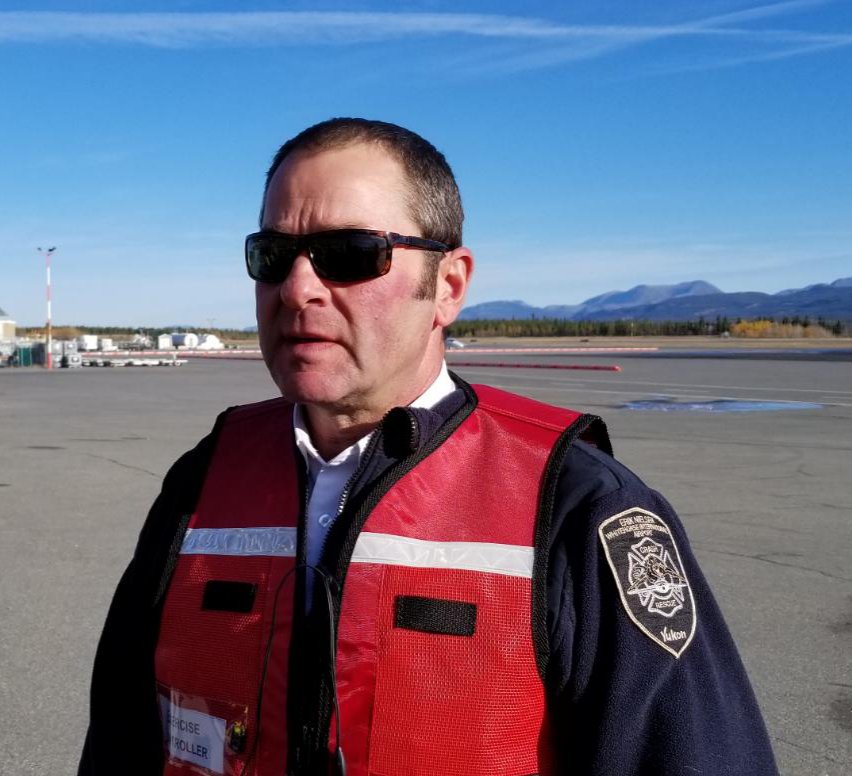 "Any mass casualty is going to a fair amount of chaos, and what you hope is that your emergency responders can put a template on chaos, and sort out what needs to be done. If you can do that in any kind of a timely manner, you're ahead of the race." Burguis told reporters at the end of the exercise.
He says the simulation, which featured a diverted aircraft which crashed with 62 people aboard, was a good test of skill for emergency services.
(Doug Burguis speaks with reporters on the airport tarmac. Photo: John Kennedy/CKRW)
"These things don't happen very often in aviation but you have to be prepared for it, (and) we are complied by regulation to do that, but it's the right thing to do." he said.
"So that's it. I think that we spend a lot of time training (as well as) preparing for this, and we owe the citizens of Yukon this kind of service."
Burguis says while the two and a half hour simulation went well from a communication standpoint, officials will look to improve ambulance transportation methods.
#Whitehorse emergency situation drills at the whitehorse international airport. pic.twitter.com/9IBv8waHtj

— John David Kennedy (@John_KennedyD) October 2, 2018