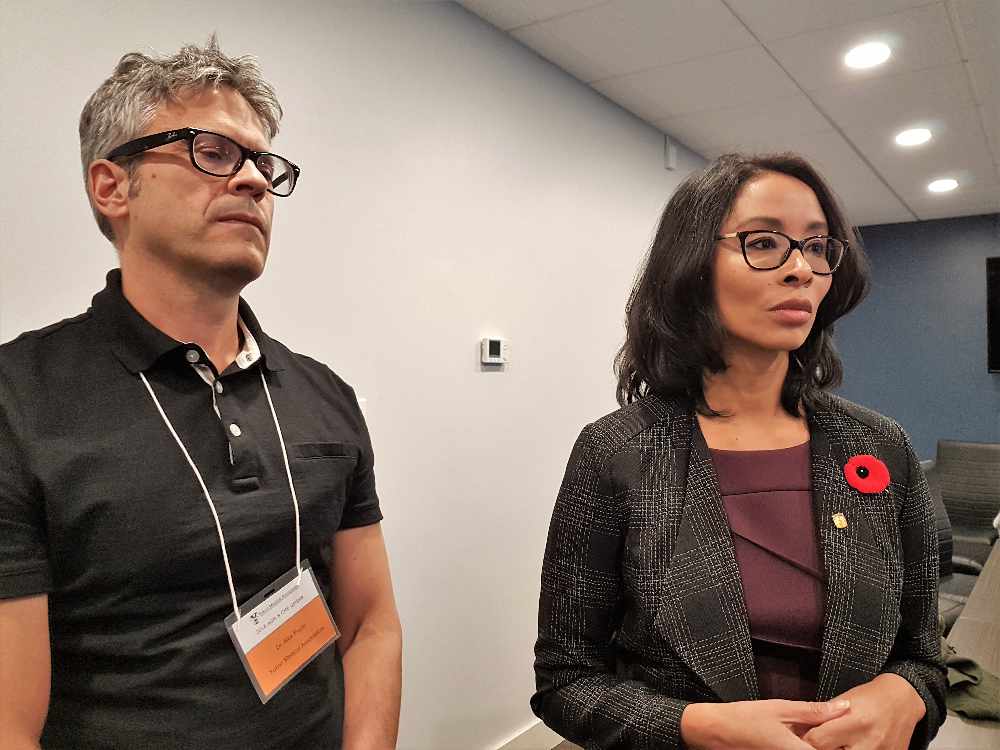 YMA President Doctor Alex Poole (left) and CMA president Dr. Gigi Osler meet with reporters Friday afternoon. Photo: Tim Kucharuk/CKRW.
The Yukon Medical Association met in Whitehorse on Friday to discuss a number of topics, and hear from the president of the Canadian Medical Association, and Yukon's health minister.
Yukon doctors are hearing from the president of the Canadian Medical Association.
Dr. Gigi Osler addressed Yukon physicians at the Yukon Medical Association Annual General Meeting on Friday in Whitehorse.
Osler told doctors there are pan-Canadian solutions to pan-Canadian problems, such as the opioid epidemic.
"We need to work with the Yukon doctors through the Yukon Medical Association, what are the specific local factors here in the Yukon that need to be addressed." Dr. Osler told reporters after the AGM.
"I don't think there's one solution that fits all, there's some over-arching principals particularly when it comes to opioids, but some of the solutions need to be locally-driven, and locally-sourced."
Osler also pointed out the stress the aging population is putting on the overall healthcare system, as she says while 20 per cent of the population is over 65, the age group takes 50 per cent of the funding.
She says the CMA's one recommendation to the federal government during budget consultations was more money for each jurisdiction to address an aging population.
Advancements in tele-medicine, and an aging population were some of the topic discussed during the meeting itself.
President Dr. Alex Poole says there was also discussion about the opioid epidemic, and helping physicians do their job well.
"In this case, it's trying to improve our ability to do our job." Poole said.
"Whether that's through advancing technology, or physician wellness initiatives such as what the Canadian Medical Association is doing, allows us to ultimately be better at being doctors."
Health Minister Pauline Frost also spoke at the AGM reaffirming the territorial government's support for doctors in Yukon.