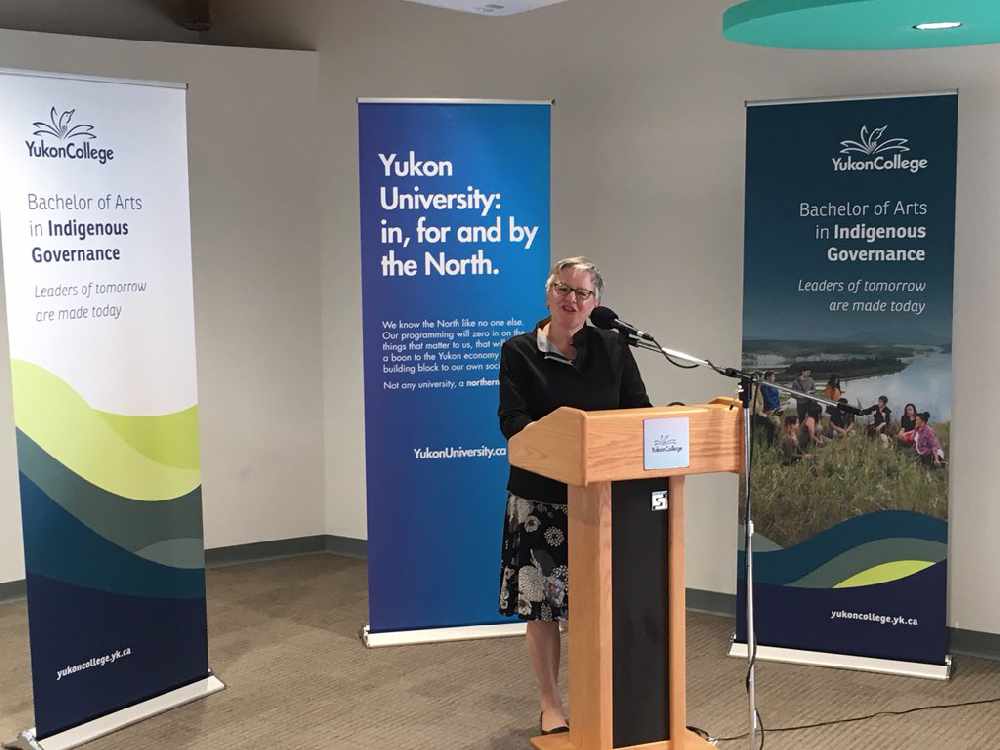 Yukon College President and Vice Chancellor Karen Barnes. (Oshea Jephson/CKRW)
The Bachelor of Arts Degree in Indigenous Governance will provide students with the capacity to work within, and alongside First Nations communities.
The Yukon college has unveiled its first degree as it transitions to Yukon University.
During a press conference in Whitehorse Thursday, President and Vice Chancellor Karen Barnes announced the school's Bachelor of Arts degree in Indigenous Governance and says the program is a step towards deeper and more meaningful reconciliation.
"Our vision of Yukon College as a leader in education, rooted in our diverse culture and northern environment where everyone is inspired to dream, to learn, and achieve has never been more relevant, more meaningful, than it is today."
The three-year degree will include courses like Indigenous Peoples and Research, Bridging Knowledges, Indigenous Political Thought, Language Activism, and Indigenous Politics in Canada.
Executive Director of First Nations Initiatives and Community Engagement Tosh Southwick says the degree was created in partnership with Yukon First Nations and is a strong example of reconciliation in the post-secondary context.
"So it wasn't just taking the idea from the First Nations and going off in a back room and developing this program, it was very much that work and those decisions being made together. Everything from what are these courses going to be about, how are they going to be taught, where are they going to be taught, what's going to be in the program was done in partnership. We made those decisions together."
Southwick says it was sometimes difficult to reach consensus with 14 First Nations but the work done up front has paid off and the experience is one the college can share with other post-secondary institutions throughout Canada.