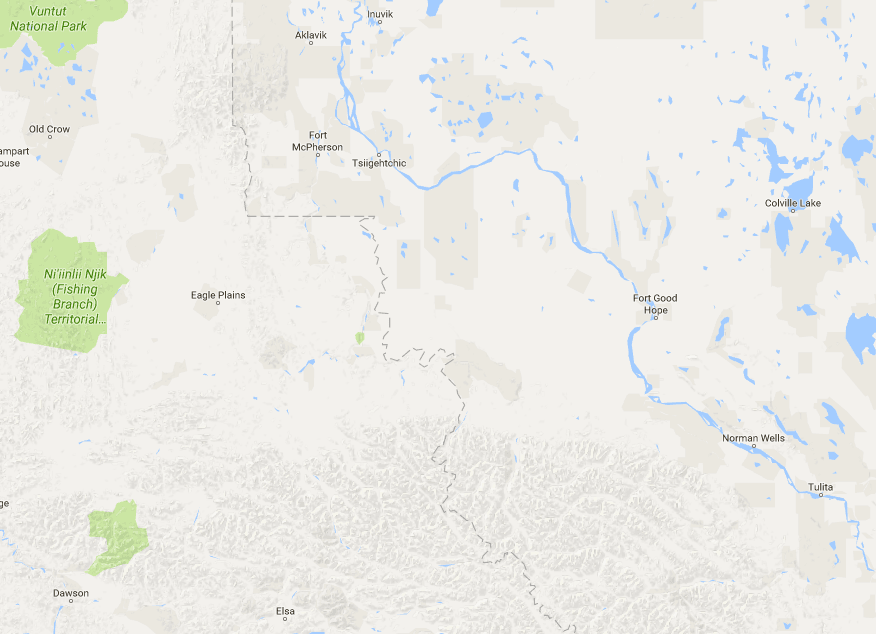 The proposed line would run along the Dempster Highway from Dawson to Inuvik. Map: Google Maps.
The Department of Economic Development says it's considering many factors as it gathers information on what it would take to operate such infrastructure.
The Yukon Government says the Dempster fibre optic link will create more diversity for consumers in the territory.
The comments by Technology and Communications Development Director Steve Sorochan follow an Expression of Interest to operate the line issued by the Department of Economic Development which says the government would pay up to $60 million, or 80 per cent of the construction costs for the line.
However, the company that operates and manages the line would retain the revenues generated over the next 20 years.
When asked if any conditions would be built into a potential bid to ensure competition, Sorochan says they are looking at many factors.
"Certainly some other benefits are part of the consideration in terms of line selection." Sorochan said.
"But the main consideration is how do we get a diverse path, and a diverse path that provides reliability to Yukon telecommunications."
He explains why the government is putting out the Expression of Interest.
"One of the things with either route obviously the private sector has not been able to make a business case to build either route, and kind of enable that diversity, which is why the government of Yukon is interested in assisting that." added Sorochan.
"The key pieces is that either way, we will retain ownership of the line."
No expression of interest has been issued to determine the cost of the Dempster line, however, current projections have been pegged at between $50 to $70 million according to a construction report by Ledcor.