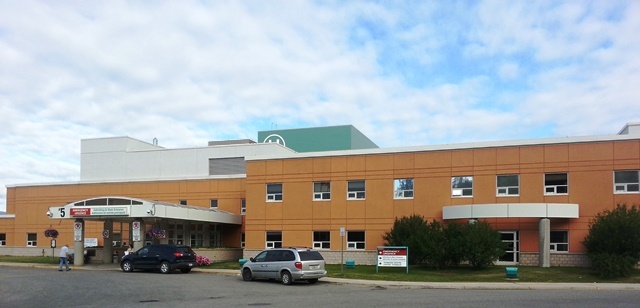 The Whitehorse General Hospital. Photo: Tim Kucharuk/CKRW file.
Health Minister Pauline Frost says the government is looking at a community-based plan, while the Whitehorse Hospital is over capacity as patients wait for long-term care.
After facing opposition questions about continuing care in the legislature this week, the Yukon Liberal Government says while no new beds will be available this fiscal year, they are preparing to roll out a plan.
Speaking to reporters outside the legislature Thursday afternoon, Health Minister Pauline Frost says the government believes in collaborative care, and aging in place, and are doing what they can with the resources they have.
"From here on, we really have to look at the overall spend of government, and we have to look at where we are going to put our resources." Frost said.
"The Whitehorse-centric model just doesn't work. All of the resources are being put into Whitehorse, and we have to start looking at our communities."
Frost says to keep posted, as officials are working on budgets right now, and an announcement will be coming.
"We have no more money in this year's fiscal budget to do more, we are working within our means."
"We'll have a plan rolling out in the coming days and months, and that will address a community-based model, and that will be done in cooperation with the communities."
The questions arose after the Yukon Hospital Corporation released a letter on Sunday in response to over-capacity at the Whitehorse Hospital.
The open letter says 40 per cent of those taking up acute care beds waiting for another type of care such as long-term.
The corporation says 15 patients since June have been transferred from Whitehorse to rural hospitals because of the bed shortage.