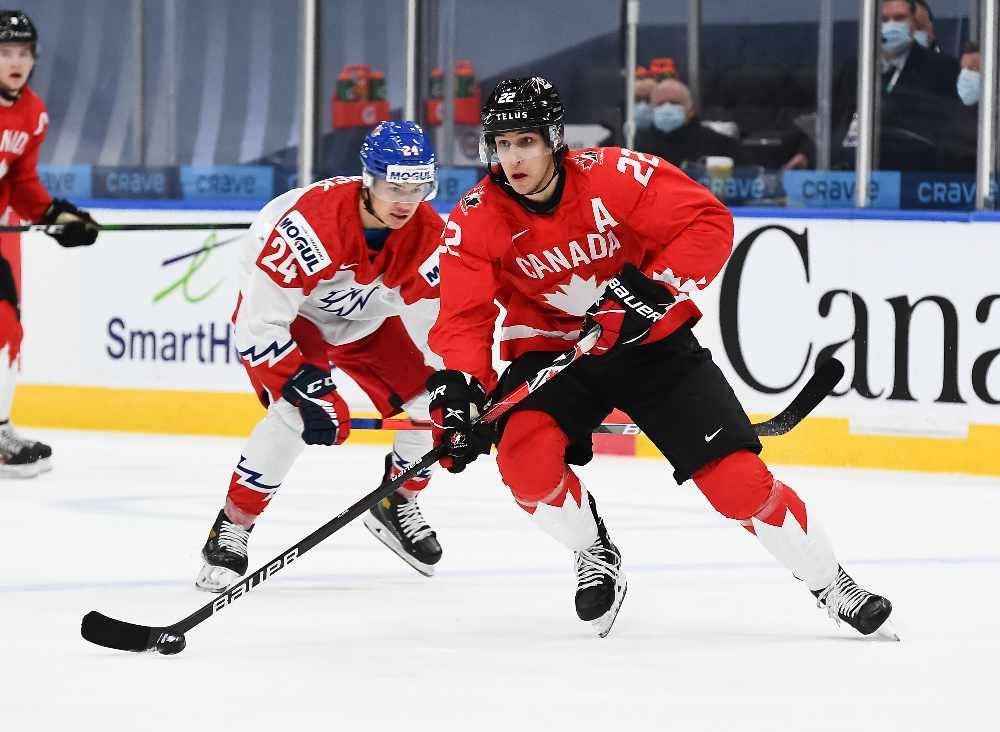 Dylan Cozens leads Team Canada with seven goals and 13 points in five games. Photo: Hockey Canada.
Canada's offensive weapons were too much for the the tight-checking effort from the Czech Republic.
Not the prettiest of wins, but Team Canada managed to generate the majority of the offence once again, beating the Czech Republic 3-0. With the win, the Canadians are off to the semi-finals.
For the first time in the tournament, Canada failed to score within the first five minutes of the game. A much tighter defence from the Czechs forced Canada to practice patience as they awaited their first goal of the game.
The wait wasn't much longer, however, as a stretch pass from Connor McMichael gave Whitehorse's Dylan Cozens a breakaway just over eight minutes into the first period. Cozens' shot managed to squeak past Czech goaltender Nick Malik, and Canada was back to where they've spent most of the tournament: in the lead.
Just over three minutes later, Canada was back to their high-flying ways, cycling the puck around in the Czech zone, looking for a lane to fire the puck. Bowen Byram found that lane to put Canada up 2-0 mid-way through the first, a score that held up until late in the game.
Despite the lead, Canada was outshot in the first period for the first time all tournament, 12-9. They struggled to manage the puck in their own end, and allowed the Czechs to create a number of scoring chances. But, like he has all tournament, and like he did all throughout this game, goaltender Devon Levi shut the door from start to finish.
Levi stopped all 29 of the Czechs' shots, posting his second shutout of the tournament. He has allowed just three goals in a tournament in which he has played all but one period so far. Levi said he enjoyed playing in a game where he was much busier than any of the preliminary round games.
"It was super fun to be busy in the first period. The past games it was a bit harder to stay focused. I found in this game it was easier to have fun and just go out and play."
Head Coach André Tourigny was pleased with his team's discipline, in a game in which they took just one minor penalty.
"You can't give teams the chance to get their best players going. You want to keep them in check as much as possible. The best penalty killing is to not take penalties, and we got it done."
Canada Player of the Game: Bowen Byram - 1G 0A 2SOG
Czech Republic Player of the Game: Stanislav Svozil - 0G 0A 0SOG
Dylan Cozens, with two points in this game, moved to 6th alone in all time points for Team Canada at the World Juniors, with 22 points in 12 tournament games.