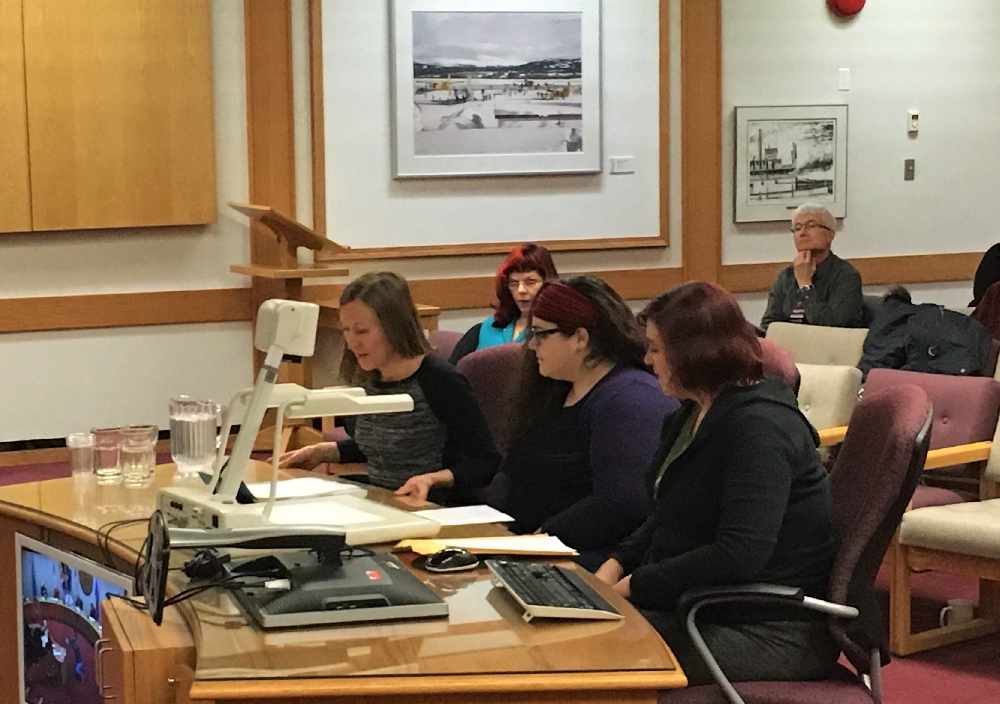 (L to R) Collyn Lovlace from the Women's Transition Home Society, Sarah Murphy with Victoria Faulkner, and Elaine Michaud with Les Essentielles at Monday's meeting. Photo: Oshea Jephson/CKRW.
Three groups appeared at Monday's meeting recommending changes they would like to see to improve safety in taxi's after a number of recent incidents.
Whitehorse city council is being asked to ramp up its efforts to protect vulnerable people and passengers who take taxis within the city.
Speaking during Monday's meeting, delegates from Les Essentielles, the Victoria Faulkner Women's Centre, and the Yukon Women's Transition Home Society submitted a letter outlining ten recommendations the groups would like to see implemented.
One recommendation involves changing the Vehicle for Hire bylaws to ensure tamper-free cameras.
Elaine Michaud with Les Essentielles says that extends to captured footage and how long it's kept.
"It's very difficult to have some checks that are done, because we never know when someone will come forward with a complaint or anything like that." Michaud said.
"So if the recordings are only kept for 72 hours, not really checked, or check randomly, or not (checked) very often, then a lot of the evidence that could be needed if someone wanted to go forward and press charges, that evidence would be gone."
Councillor Dan Boyd is asking administration to look into the issue.
"How big a problem do we have? Are we getting complaints? Do we keep track of the complaints? Do we have enough tools to deal with this, to try and reduce the number of incidents and complaints?" Boyd told council.
"I would like to see this go somewhere. If we can do more, it'd like to do more."
The group is also asking for more driver information to be displayed, to have training and accreditation programs for drivers, and to create a committee to address taxi safety.
There have been at least two reported incidents this fall of taxi drivers in Whitehorse being accused of sexually assaulting passengers.