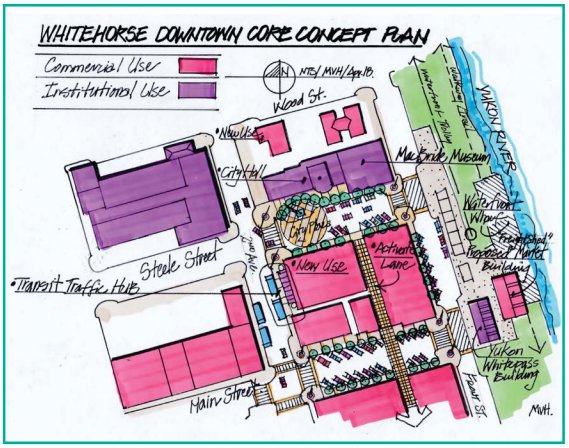 A concept drawing of proposed changes in the downtown area of Whitehorse. (City of Whitehorse)
The city is looking for public input on its draft plan for the Downtown and Marwell areas which looks to improve pedestrian safety and entertainment potential.
The city of Whitehorse has some big ideas for the downtown and Marwell areas.
In releasing draft plans, the city looks to make Second Avenue more pedestrian-friendly, and will further study the Copper and Quartz Road corridor.
Planner Ben Campbell says it's also proposed Main Street become more user-friendly.
"Looking at ways to do more event programming and other special events so some examples include, you know, temporary street closures in the commercial core so the area around Main Street and Front street. Looking at patios along sidewalks, doing more food vendor-type events."
Campbell says public input on the plans is now being accepted online.
"They complete an online survey so that's the main event here. We're going to have a presence at the Yukon trade show on May 4th to 6th so we'll have a booth there. We're also going to have a Front Street pop-up park on May 14th."
Some of the big actions include making Second Avenue five lanes; Two for buses, two for regular traffic, and a turning lane, as well as studying the Copper and Quartz Road corridor.
It's hoped final plans will be in front of city council by June.