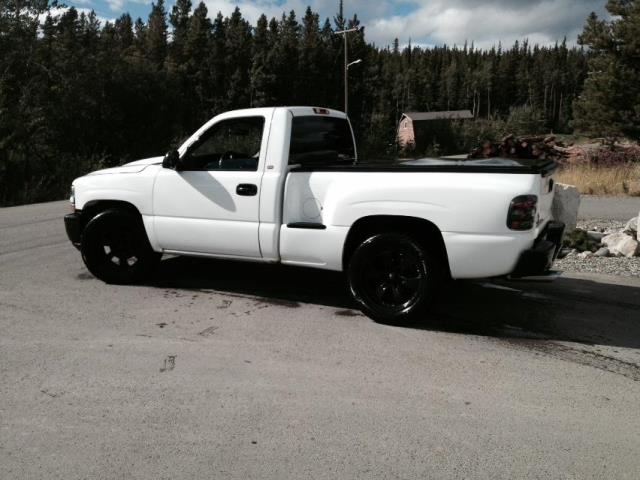 The truck Christopher Brisson was driving which was shot at during an altercation with Darryl Sheepway in August of 2015. A firearms expert has gone over what he found after examining the vehicle. Photo: Yukon RCMP.
A former co-worker and a police firearms expert have testified at the trial of Darryl Sheepway who is facing a first-degree murder charge in the shooting death of Christopher Brisson.
A former co-worker of Darryl Sheepway says the Whitehorse man told them about killing Christopher Brisson.
The acquaintance, who cannot be identified under a publication ban, testified in Yukon Supreme Court via closed circuit television Wednesday morning in Sheepway's murder trial.
The person applied to the court to testify via CCTV, as they were still afraid of Sheepway, saying they have been suffering from P-T-S-D since the confession.
The co-worker told the court they would often do crack cocaine with Sheepway a few times per week outside of work.
The person testified the two were using drugs in the basement, and they could sense something was off with Sheepway, and a conversation ensued where Sheepway said he killed his drug dealer.
The co-worker testified Sheepway was hesitant throughout the conversation, and they asked if it was an accident.
Sheepway responded no, adding he took drugs and money after the shooting.
The acquaintance told the court they were uncomfortable and in shock after the conversation, as Sheepway said it was the first time he had told anyone about the shooting.
They then told a drug counsellor about the chat, then both went to police.
An RCMP firearms expert took the stand Wednesday afternoon.
Joseph Prendergast testified he examined the shotgun slug pulled from Brisson's body, and found it was likely a Winchester slug, and showed the court the 12-gauge shotgun allegedly used in the shooting.
He then showed photos of Brisson's truck, and described how the bullet smashed out the back window, went through the headrest, and into Brisson's left shoulder, lodging in his right jaw.
So far, court this week has heard Sheepway shot Brisson while trying to get more crack cocaine during an exchange gone bad on the McLean Lake Road in late August 2015.