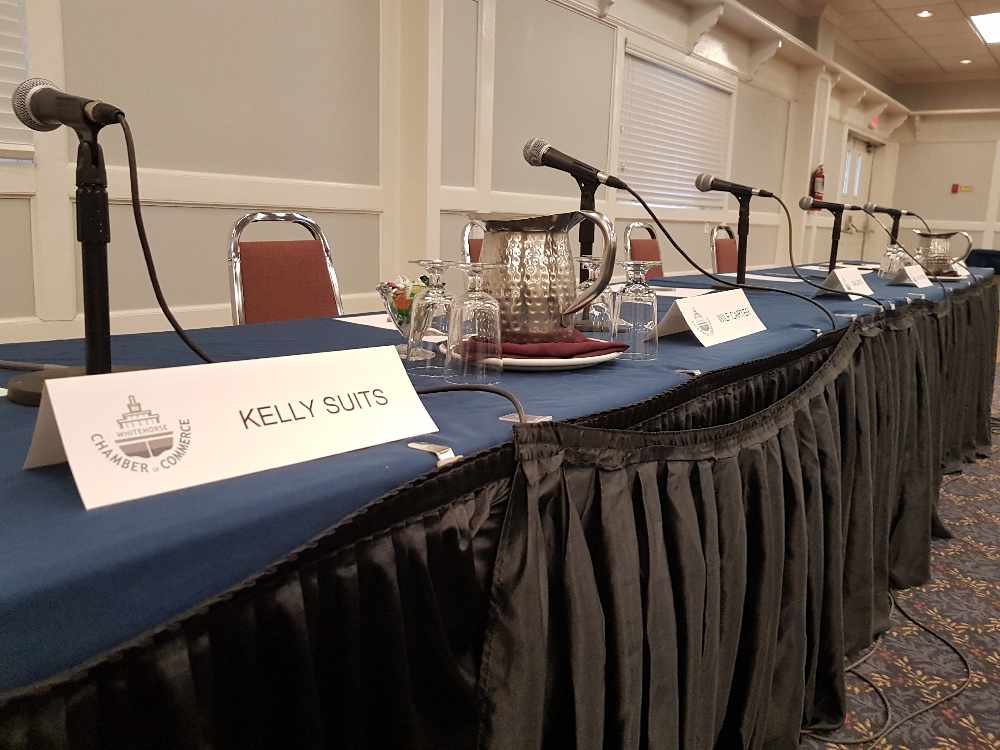 Moderated and audience questions greeted mayoral candidates in Whitehorse Thursday night. Photo: Tim Kucharuk/CKRW.
The second Chamber of Commerce All-Candidates Forum saw four of the five candidates answer questions for three hours.
The mood ranged from lighthearted to tense to emotional at the Whitehorse Chamber of Commerce mayor's forum.
Four of the five candidates took part in the three-hour question and answer session Thursday night, discussing topics such as housing, parking, transit, First Nations, intergovernmental relations, and economic development.
Wilf Carter, Dan Curtis, Colin LaForme, and Rick Karp participated, while Kelly Suits did not attend.
Karp says there should be more dialogue not surveys when it comes city matters, and he touted his experience as Chamber of Commerce president.
LaForme says he would look into transit on Sundays, and would stop urban sprawl.
Curtis brought up his work with First Nations, and says we need to take care of our most vulnerable citizens.
Carter says the federal government must restore housing money, and says the city must get its financial house in order.
The night took an emotional turn when an audience member asked if all the candidates respected our most vulnerable people, prompting sombre answers from each candidate.
All candidates agreed the Porter Creek D planning area in McIntyre Creek should be left alone, and there should be no drone use for trail enforcement.
Over 100 people attended the forum at the Gold Rush Inn.
Residents vote for a new mayor and council October 18th.