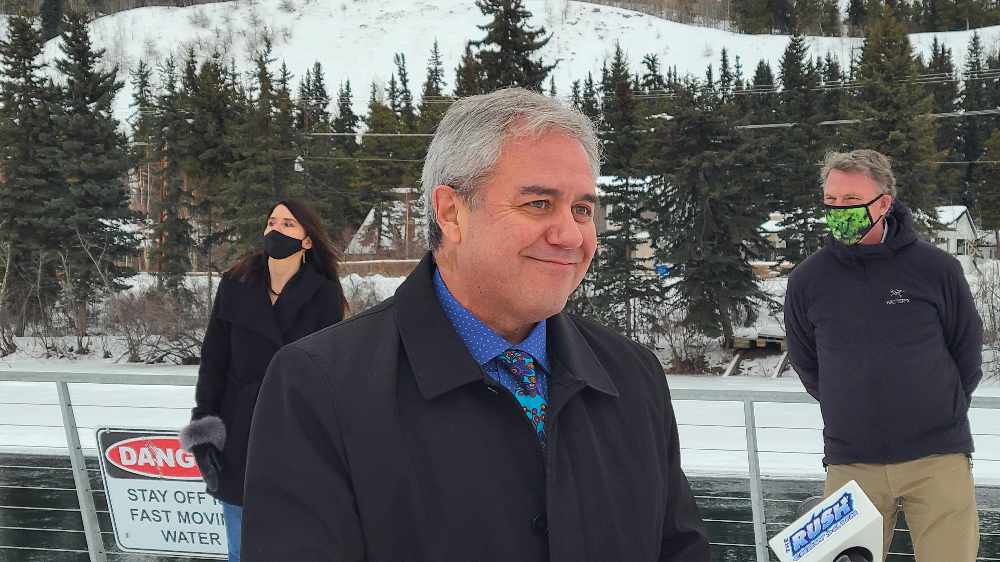 Dan Curtis says he wants to find ways to better serve his community. Photo by John Kennedy / CKRW
Whitehorse's Mayor will not be running for re-election this fall, but he will be running in a different election.
Whitehorse will soon be on the lookout for a new Mayor.
Mayor Dan Curtis is re-entering the territorial political arena and has announced his bid for the Whitehorse Centre Riding nomination with the Yukon Liberal Caucus in the next territorial election.
During an outdoor press conference on the Wharf in Downtown Whitehorse, Curtis says he feels like he has a responsibility to find a new way to serve his community.
"I'd like to think in this last decade, I've had just a small part of the positive change and great work that I see here. I still wake up every morning with the same enthusiasm and gratitude and privilege of serving the people of my hometown and my family. Lately, I've felt a new responsibility for finding new ways to serve our community."
He says regardless of whether or not he wins the seat, he will be stepping down as Mayor.
"If I'm not successful with the nomination and even if I am and I'm not successful to be able to represent the downtown and Marwell, I will be stepping down from Mayor. I'm not going to run again. I've done three terms at the end of this term and that will be my swan song as far as the mayor's position goes."
Curtis says he will also step down if the election is called before his Mayoral term ends in October.
Curtis ran in the 2011 election in the Riverdale South riding.
He has been Whitehorse's Mayor since 2012.
Reporting by John Kennedy.