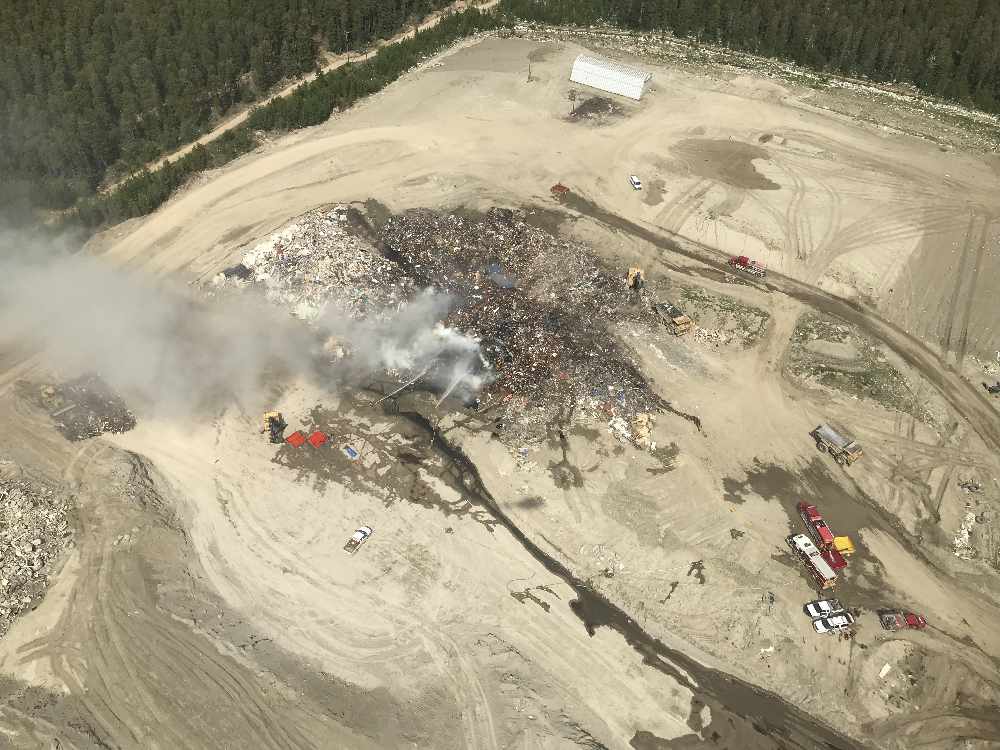 An aerial photo of a burning construction waste pile at the Whitehorse Landfill. Photo: Yukon government
Officials say they continue to assess the situation but are not ruling out spontaneous combustion as a cause.
The City of Whitehorse says a fire at the Waste Management Facility is under control, but not extinguished.
In an update to reporters Monday morning, City Infrastructure and Operations Director Peter O'Blenes says no cause has been determined yet, but spontaneous combustion hasn't been ruled out.
"Construction and demo waste activated with water. We've had some rains in the last little while, you know, you get a little bit of oxygen in there even though it may be compressed and everything else, not a lot of oxygen there, it can still flare up and combust on its own."
O'Blenes says a specialist has been brought in from British Columbia to assess the situation and the city is getting support from the Yukon government.
He says while there's no issues with toxic emissions, they will continue to monitor the situation over the coming days, noting the fire which came to life Wednesday night, and flared up on Saturday, could burn underground for quite some time.
Emergency Measures Organization Director Diarmuid O'Donovan says their Emergency Coordination Centre was activated following the flare up Saturday to help the city with logistical support.
"In terms of heavy equipment, as well as support form Highways and Public Works, bringing in additional tanker support and helping to provide a common venue for the city of Whitehorse and Yukon government to work together."
O'Blenes says the decision hasn't been made on whether the fire will be allowed to burn itself out, adding there shouldn't be any visible signs coming from the pile.