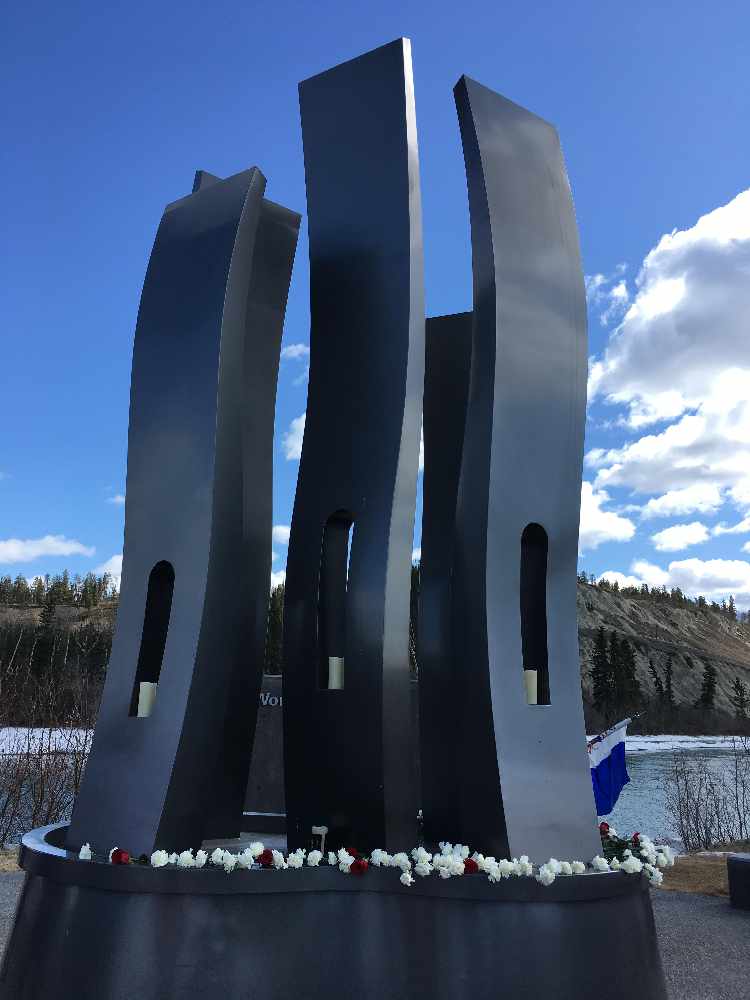 Yukon Workers' Memorial covered in roses during the National Day of Mourning in Whitehorse. (Oshea Jephson/CKRW)
About 50 people gathered in Whitehorse over the weekend to mark the National Day of Mourning.
About 50 people were gathered at the Workers' Memorial in Whitehorse Saturday to mark the National Day of Mourning.
The event, hosted by the Yukon Federation of labour, honours the almost 500 workers who were injured, and one who was killed last year in the territory.
This year's theme was Violence and Harassment: Not Part of the Job and President Justin Lemphers says a recent report points to harassment as a key issue that can cause injury.
"Of those surveyed, harassment was the most common type of behaviour reported, a shocking 60%. Thirty percent of respondents experienced sexual harassment, 21 percent experienced violence, and three percent experienced sexual violence in the workplace. Those statistics are horrifying."
Lemphers says many of those reports are anonymous and its time that changes.
Chair of the Yukon Regional Health and Safety Committee Dianne Williams says people should know the signs of domestic violence and harassment in the workplace.
"Use your eyes to see what is happening around you, your voice to speak up, and always follow through. One act of kindness can change the obstacle to a triumph, the objective to a goal. The end result will be a safer more positive work environment for everyone."
Williams says jurisdictions in Canada are now recognizing their role in preventing violence in the workplace, especially in the case of domestic violence.