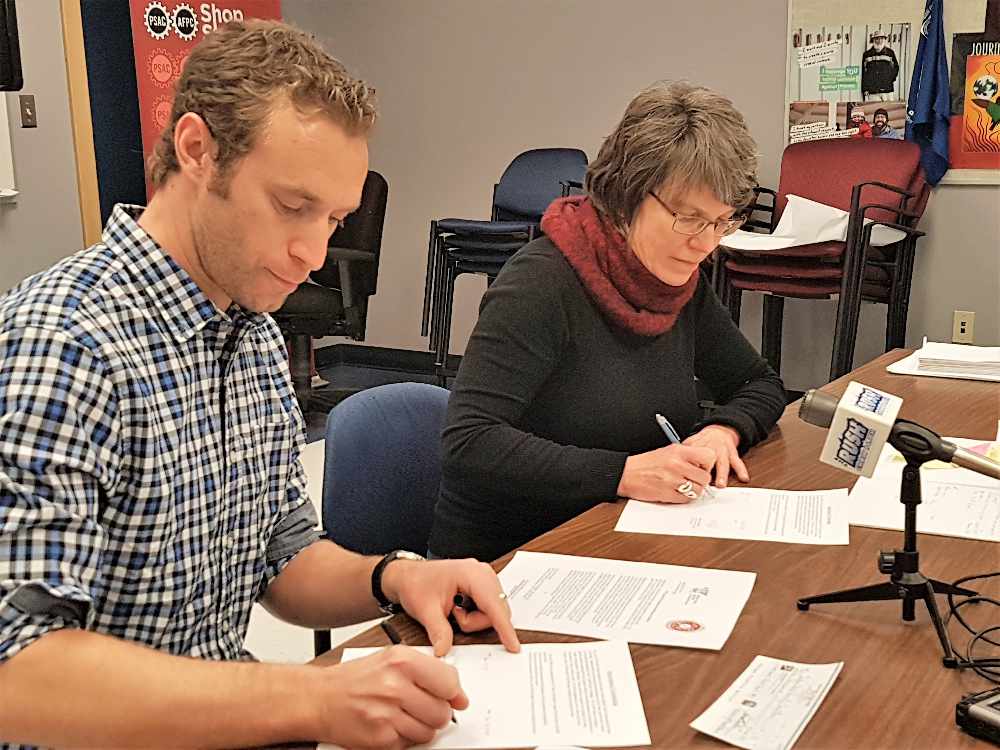 Lowenberger (left) and Craig sign the MOU Thursday afternoon at the union's office. Photo: Tim Kucharuk/CKRW.
Yukon Employees Union Local Y010 pledges money to Anti-Poverty Coalition to take By Name List initiative out to the communities.
The Yukon Anti-Poverty Coalition and Yukon Employees Union Local Y010 are teaming up to bring a coalition initiative to the communities.
Local President Mark Loewenberger says the two have signed a memorandum of understanding, and the union is donating $7,000 to the coalition so they can take their By Name Priority List count of homeless people pilot project outside of Whitehorse.
The coalition's Kristina Craig says the MOU and donation is a big deal, and it's key to have other partners in the project other than government, as the goal is to end homelessness in the territory.
Loewenberger adds union members see the need for better coordination, communication, and support of people struggling with homelessness every day, and the local wants to be a part of the solution.
Whitehorse is currently one of five Canadian cities to receive funding for such a pilot project to identify a list of people who experience chronic, or short-term homelessness.
(Video: Craig talks about the importance of the count in the fight to end homelessness.)
#Yukon Anti-Poverty Coalition Executive Director Kristina Craig talks about importance of By Name List count which received sizeable donation from YEU Local Y010 to take count outside of #Whitehorse. pic.twitter.com/jkxOM5eJuK

— Tim Kucharuk (@TimKucharuk) January 26, 2018