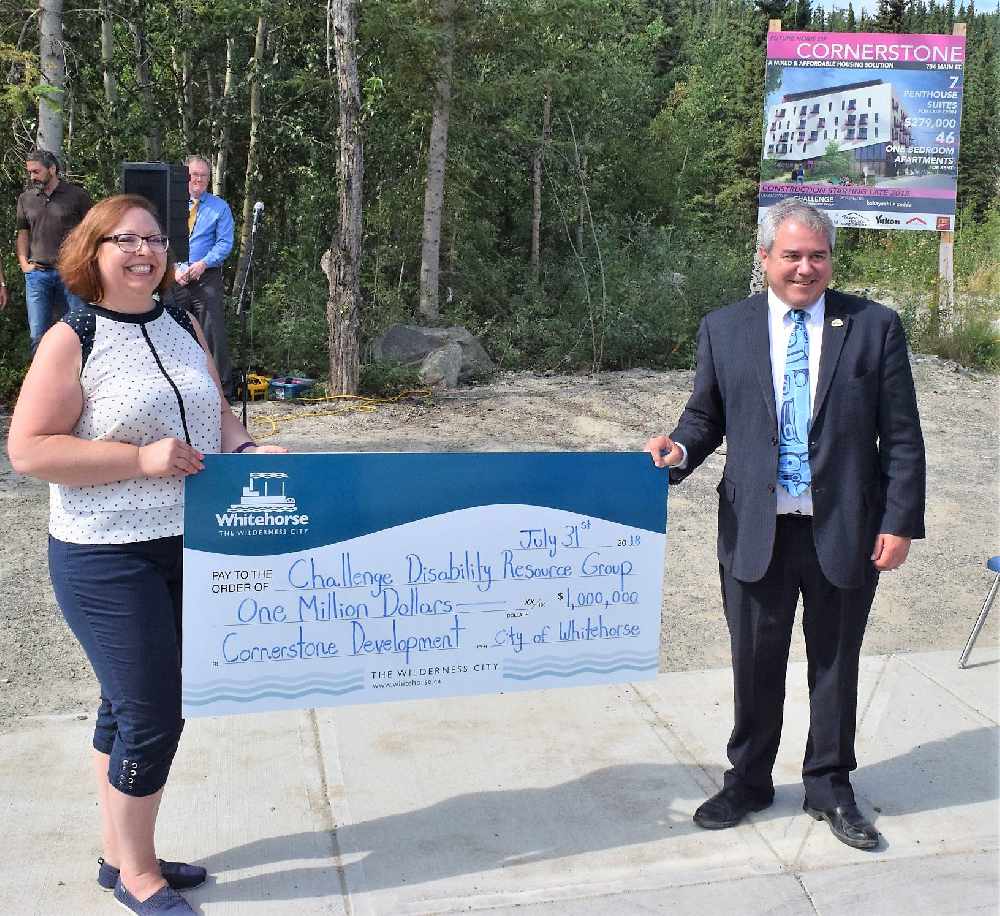 Jillian Hardie with Challenge accepts the cheque from Mayor Dan Curtis Tuesday afternoon. Photo: City of Whitehorse.
The Challenge Disability Resource Group has been planning their Cornerstone development for the past few years, and now the city is stepping up with capital funding.
The Challenge Disability Resource Group in Whitehorse is getting a boost from the city as their Cornerstone affordable housing project is coming together.
Mayor Dan Curtis presented a $1 million cheque to the group at their Main Street lot Tuesday afternoon, where a 53-unit housing project will be constructed starting next spring.
Challenge Executive Director Jillian Hardie says 46 of the units will be affordable housing, and the final seven penthouse suites will be condominiums.
"So because of that (condo portion) we didn't qualify for the municipal grant." Hardie told the RUSH.
"This is something the city went about outside (of the normal process) and they didn't have to do this, but because it matches their strategic priorities, they decided to go forward and develop this specialized grant for Challenge."
Hardie says the city was the first one to step forward, as the group is working to secure other funding for the $18 million project.
"Right now, we're working with (Canada Mortgage and Housing Corporation, the government of Yukon, (and) CIBC." said Hardie.
"CMHC is working on the terms for two different grant applications we have with them, and the Yukon Government has agreed to support the project, but hasn't come (forward) with a firm amount yet."
Hardie says 20 of the 46 affordable housing units will be barrier-free.
The project is slated to be complete by September 2020.