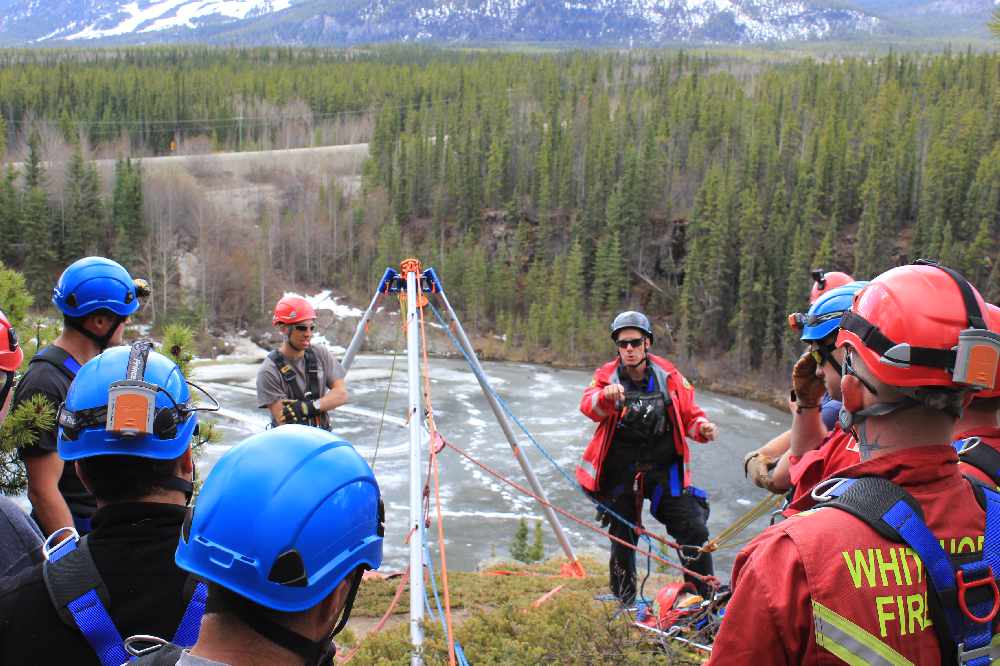 Whitehorse firefighters standing feet from a cliff as part of a technical rope rescue course. (Oshea Jephson/CKRW)
Firefighters were perched just back of a cliff about 50 feet high as part of an extensive rope rescue training course.
About a dozen Whitehorse firefighters were on top of a cliff face Thursday simulating a mock rescue of an injured hiker.
Technical Rescue Coordinator Dayne Jones says the training was part of the crew's week-long recertification in technical rope rescue which takes place every three years, in addition to quarterly training.
"We're just out here on Mt. Sima road doing a mock rescue scenario for a hiker that's fallen over the edge of a cliff and so we've set up a artificial, high-directional point with a tripod, and we sent a rescuer down to go down there with a stokes basket and bring the guy back up."
Jones says it's a skill that comes in handy.
"The city of Whitehorse is a pretty active town. There's lots of people out in the woods doing all sorts of activities, climbing, mountain biking, so within the city limits, city of Whitehorse, we are the technical rescue team to go and get anybody that's run into some trouble so we want to make sure that our skills are there so we can help them out, as best we can, when the need comes."
Jones says members practice in various conditions including the clay cliffs, as it's a very technical skill.