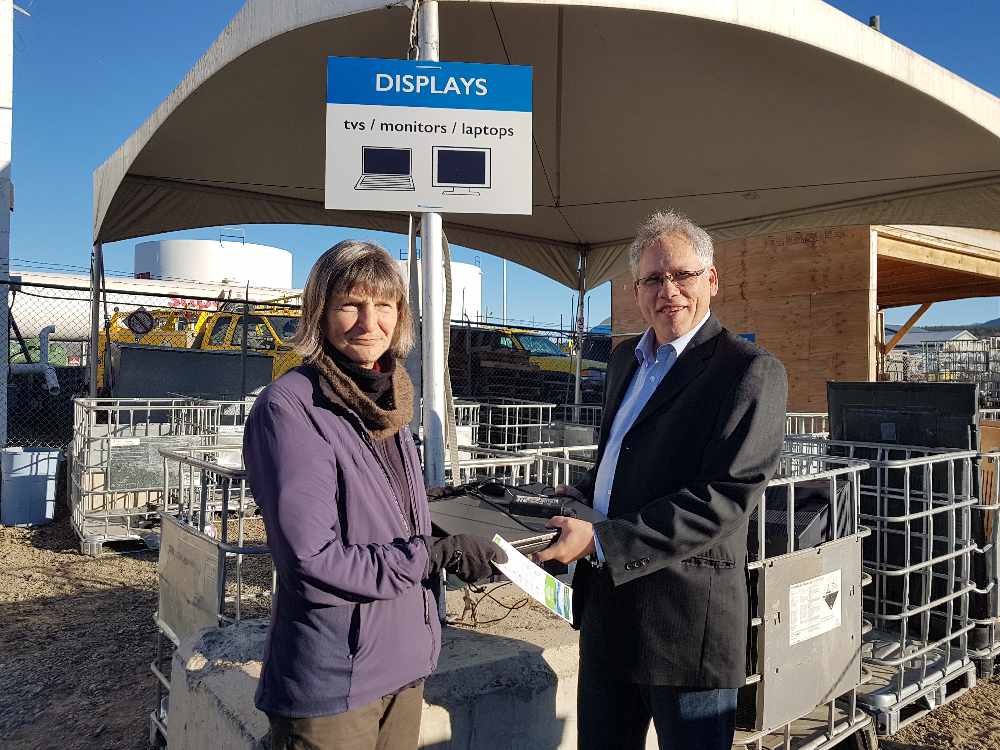 Raven Recycling's Joy Snyder (left) and Minister John Streicker at the opening Monday morning. Photo: Tim Kucharuk/CKRW
As Designated Material Regulations are now in place, Raven Recycling is now collecting e-waste, and a surcharge will be added to the sale of tires and electronics.
A new era of recycling begins Monday in Yukon.
New Designated Materials Regulations which are now in effect in the territory will see an up-front fee charged on tires and electronic items, with residents now able to drop off items to be recycled for free.
This means the opening of the new e-waste depot at Raven Recycling in Whitehorse to collect those materials.
Executive Director Joy Snyder says most electric and electrical products are now being accepted.
"We've sectioned off a little bit of the yard, and people can come in and park, and bring their e-waste and put it in the correct container." Snyder said.
During a tour of the facility Monday morning, Community Services Minister John Streicker told reporters it's better to divert and recycle these items.
"We just know that when e-waste and tires make it into the landfill they just cause problems down the line." Streicker said.
"Rather than having to pay for it in a cleanup sense, what we're doing is we're diverting it, and it's just a great news story all around."
Snyder says there was a small line up Monday morning when the depot first opened, and expected an initial push of goods as people have saved up their products waiting for the depot to open.
Raven will accept the items, then send them to Alberta for recycling.
People in the communities can still take their old goods to the landfill, where they will eventually end up at the depot in Whitehorse for recycling.
The surcharge amount and list of items accepted can be found here.
Community Services minister @JohnStreicker checks out the new e-waste depot at Raven Recycling (@Ravenstation) in #Whitehorse. The depot opened Monday morning as new Designated Materials Regulations took effect. pic.twitter.com/YJfsZhbOeg

— Tim Kucharuk (@TimKucharuk) October 1, 2018