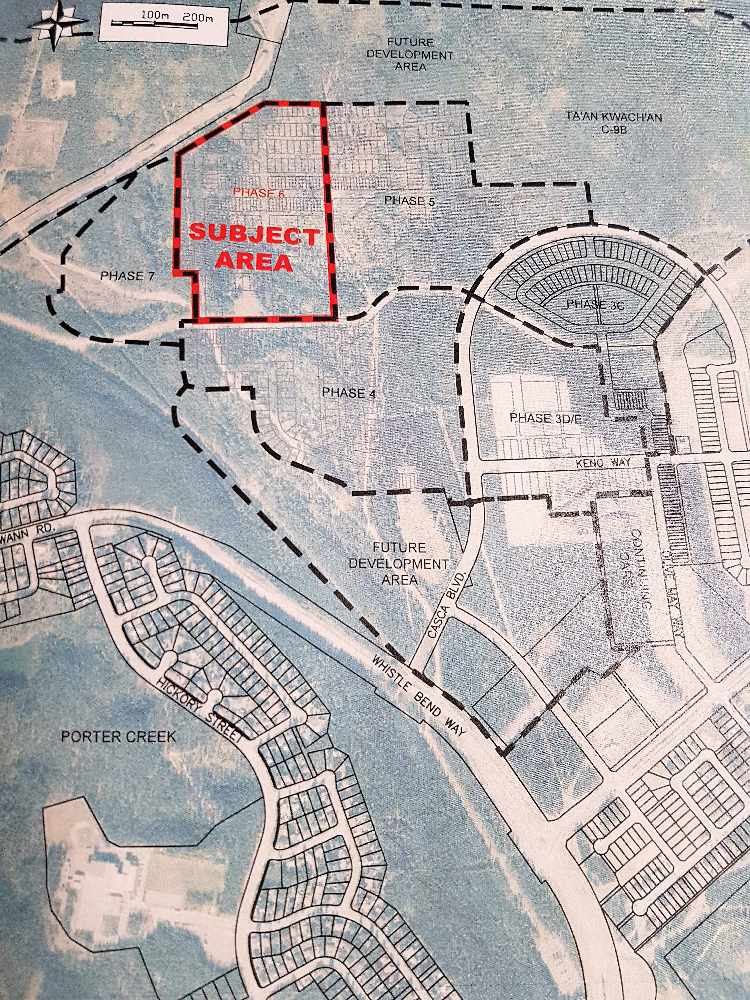 Whitehorse City Council looks to push forward with phase 6 of Whistle Bend. (City of Whitehorse map)
With phases three, four and five ready to hit the market or under construction, planners are recommending work get underway on phase six.
Whitehorse City Council is getting ready to approve the creation of the next phase of development in Whistle Bend.
At Monday night's meeting, council heard from Acting Senior Planner Kinden Kosick, who says the Yukon government has expressed an interest in developing phase six on 14.5 hectares in the northern part of the neighbourhood.
"(The area is) comprised of 100 single family (and) duplex lots, 75 townhouse lots, four multi-family, one park lot, and one public utility lot." Kosick told council.
"All of the proposed lots conform to the applicable zoning regulations."
Council will vote on the neighbourhood's creation, and a concurrent zoning amendment next week, which would allow detailed design to commence.
Kosick says phases three and four will head to lottery next spring, while design work is underway on phase five.
Council also questioned Kosick about what happens after Whistle Bend for the creation of new housing lots.
Kosick told them there two actions, including the Official Community Plan review.
"Part of that is preparing our projections, working with YG's numbers to figure out how much growth we need to accommodate, where we could potentially have units, (and) how much Whistle Bend is going to take up of that."
He says the other is looking at the Urban Containment Boundary expansion areas, which will require a lot of background work.
Another consideration he told council, is opening up Future Development Areas to the north and within Whistle Bend.