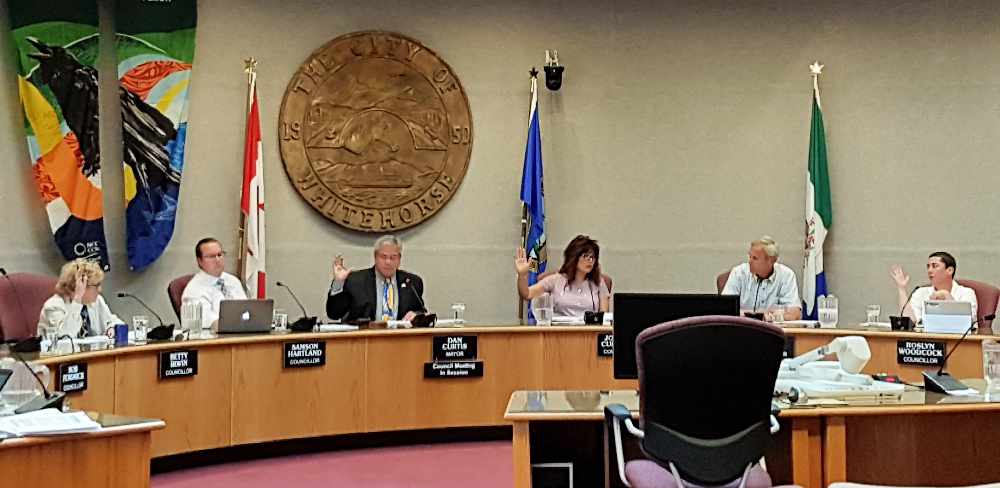 Whitehorse City Council votes to defeat the rezoning application Monday night. Photo: Tim Kucharuk/CKRW.
Citing the need to preserve Whistle Bend's area plan among other reasons, council is voting down a developer's request to lower the density of a Tarahne Way lot.
Whitehorse City Council is not approving a rezoning application for a townhouse project on a Whistle Bend lot which was originally zoning for apartment-style housing.
At Monday's meeting, council voted to keep the Tarahne Way lot with a density of 50 units per hectare, instead of approving an application to downsize the density to 40.
Councillor Jocelyn Curteanu voted to defeat the application.
"Once more amenities are going to be available in that area, I honestly believe that there is going to be a lot more uptick for apartment units." Curteanu told council.
"Apparently some of things that had not been met by the original design that was submitted to the city is that visitor parking is still lacking, as well as the greenspace requirement."
Councillor Samson Hartland was joined by Councillor Dan Boyd in supporting the application, as Hartland says more housing is needed in the city, particularly with the Whistle Bend Place continuing care facility coming online.
"And putting a vacant lot out there saying to folks 'build it, and they will come', we can see it's not working." Hartland said.
"And we're seeing in the media lately that rental housing is needed, and there's a lot there. There's still a lot there that nobody has bought or built on yet."
In voicing their opposition, others around the council table voiced the need to stick to the area's master plan.