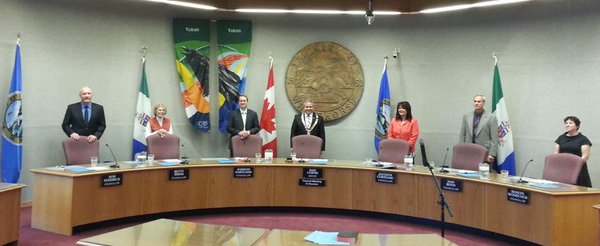 The current Whitehorse City Council. There could be some new faces at the table as Yukon holds municipal elections this fall. Photo: Tim Kucharuk/CKRW file.
If passed next week, the raise in remuneration for mayor and council would not take effect until council's next term.
Whitehorse city council is looking to shore up the salaries of incoming council members following a review by administration.
The review is a result of changes by the Canada Revenue Agency which would make the salary of mayor and council entirely taxable, unlike the status quo where a portion is exempt from income tax.
The new rules mean take home pay would remain the same.
Mayor Dan Curtis says the change is due not only to keep up with take-home pay, but to align with other communities.
In her presentation at Monday's meeting, Legislative Services Manager Catherine Constable says the mayor's salary is on par with others, however councillors should be paid more.
The new mayor's salary will rise from almost $88,000 to $100,000 per year, while councillor salaries would increase from $20,000 to $24,000 to make up for the tax change.
Administration is proposing a councillor's salary be further increased to 36 per cent of the mayor's salary to match other communities, which takes the pay to $36,000.
Council will vote on the increases next week.