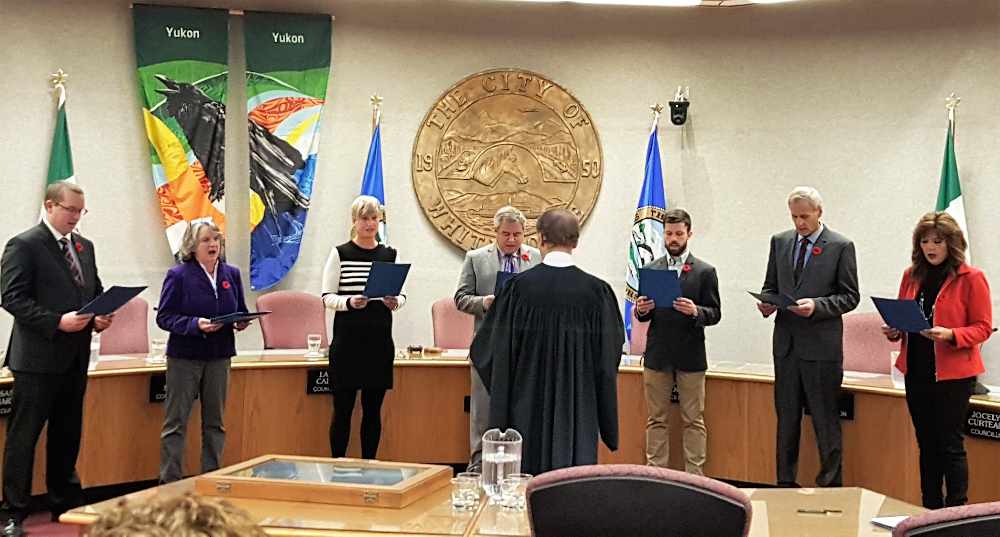 The 2018-2021 Whitehorse city council during Monday's swearing-in ceremony. Photo: Tim Kucharuk/CKRW.
Four returning members and three new faces will make up council for the next three years.
The newly-elected Whitehorse city council have taken the oath of office.
Led by Mayor Dan Curtis, the seven were sworn in Monday evening in council chambers to a three-year term.
In an opening address, Curtis says the new council, consisting of Samson Hartland, Laura Cabott, Jan Stick, Stephen Roddick, Dan Boyd, and Jocelyn Curteanu, all bring a tremendous amount of expertise and passion to the table.
"Each and every one of you bring a much-needed skill set to help create a well-rounded team, with individual perspectives and values that will serve our city very well indeed." Curtis said.
"This new term of office presents an opportunity to re-engage and continue our relationships (with various levels of government and partners) to address our top priorities."
Curtis also paid tribute to the three outgoing members of council.
"I know that Betty Irwin served at this table, three concurrent terms. Robert Fendrick sat here for a term, as did Roslyn Woodcock serving during the last term." Curtis said.
"I want to thank them for representing our city and our territory. Their hard work doesn't go unnoticed or unappreciated, and we're aware of your commitment to make our city better then when we were first elected to council three years ago."
After the ceremony, a brief inaugural meeting was held to appoint Deputy Mayor and committee positions for the next year.