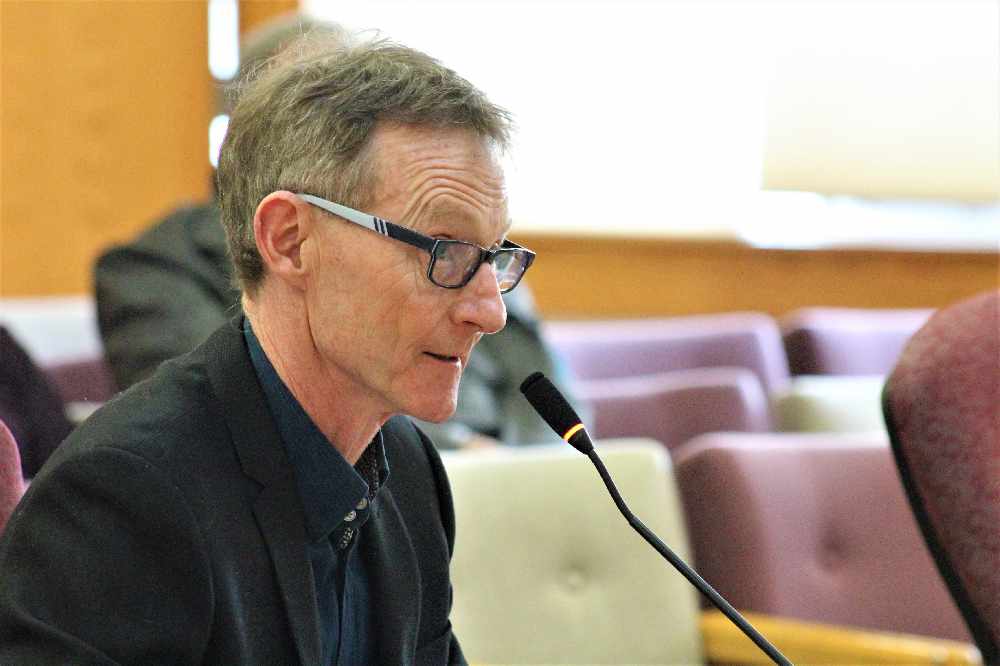 Dr. Brendan Hanley addresses Whitehorse city council Monday night. Photo: John Kennedy/CKRW.
Yukon's Chief Medical Officer of Health says the city may want to look at a section of the zoning amendment on private pot sales.
Yukon's Chief Medical Officer of Health is bringing his concerns forward during a public hearing on allowing private cannabis retail sales in Whitehorse.
Dr. Brendan Hanley told council Monday night about the definition of the word "park" in the proposed zoning amendment bylaw. Under the bylaw, a park is defined as a space with a play structure.
This leaves multiple city parks out of the bylaw's restriction zones and allows retailers to pop up near parks without a structure.
Hanley says it is the city's job to ensure this amendment does not harm anyone, and the definition of a park must be amended before he can support the changes.
"This does exclude a few parks that are designed for use by families, children, and all sectors of our urban community for entertainment and socialization purposes," said Hanley.
"This does include Shipyards Park and Lepage Park."
Hanley says the definition might add to Yukon's already high substance abuse numbers.
"Allowing substances to be sold in areas where children and youth congregate, increases normalization of the products and the likelihood that youth will consume at younger ages, and consume larger amounts," Hanley told council.
"Evidence from alcohol and tobacco has shown this to be the case, and we would expect a similar trend to exist."
Council moved the bylaw to first reading and will revisit the issue next week.