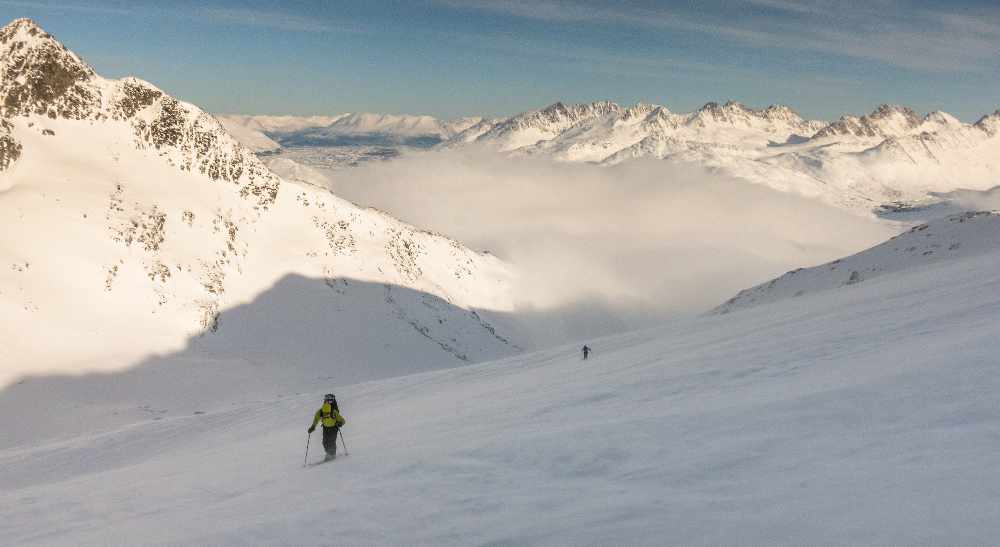 Skiers on the White Pass. The Yukon Avalanche Association will have their Hot Zone Reports for the area available by mid-December. Photo: Ben Horowitz/YAA.
The Yukon Avalanche Association says the Hot Zone reports worked well last year, and thanks to a forthcoming YG agreement, the reports will be available this season.
The Yukon Avalanche Association is gearing up for another season.
The Association's Ben Horowitz says the group is in the process of securing long-term funding from the Sport and Recreation Branch of the Yukon Government to help produce their Hot Zone Reports on conditions in the White Pass area.
He says the Association is grateful the Branch recognizes the value of public avalanche safety programming, and the reports.
"It was kind of a pilot project, and we had a really successful first year." Horowitz said.
"We're going to be doing more of the same for the 17-18 season. We expect probably by early to mid-December we'll be issuing the first Hot Zone reports, (and) we're aiming to issue probably two every week."
"Last year, we got the team out on a number of occasions, mostly mid-week, when we really needed to get data ahead of the weekend to produce the Hot Zone reports.
He says the money will also be used to help fund a professional field team.
"This year, we're going to again be working to close that mid-week data gap, and get the field team out early in the week if possible."
Horowitz says last year, 100 users were trained to provide information for the reports, which were done for 130 of the 155 day season, with 230 independent reports produced.
He says the Association should have an agreement with the government in place in a few weeks.