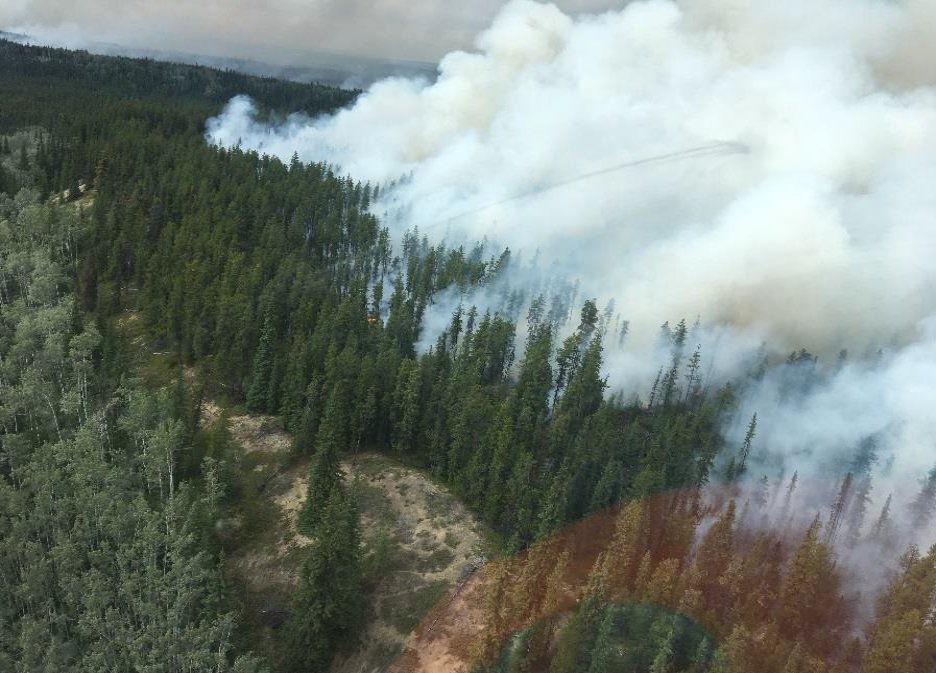 The Poison Lake Fire on July 13th. The fire has flared up again with the warm weather, and an Evacuation Alert is back in place north of Watson Lake. Photo: Yukon Wildland Fire Management/Protective Services.
Wildland Fire Management says most of the territory has an extreme fire danger rating, and is issuing a warning for people to use caution outdoors.
The warm weather this week has increased the volatility of Yukon's Forest Fire situation.
Wildland Fire Management says the fire danger rating is extreme or high in all parts of the territory, with the city of Whitehorse also issuing a warning with extreme conditions in the city.
Both say while there are no campfire bans, you are asked to make sure your campfire is fully extinguished before leaving the area, and to take extra caution with the exhaust of motorized vehicles in the back country because of dry tinder.
Wildland Fire says the Poison Lake Fire north of Watson Lake has roared to life, with suppression efforts continuing, and structural protection in place.
The agency says while the fire has not crossed the Frances River, an evacuation alert has been issued for kilometres 30 to 60 of the Robert Campbell Highway because of the increased risk.
To the north, smoke could be visible near the Moosehide Gathering, and from the Top of the World Highway from fires in the Dawson area.
There are 13 active fires in the territory, which have burned over 22,000 hectares so far.