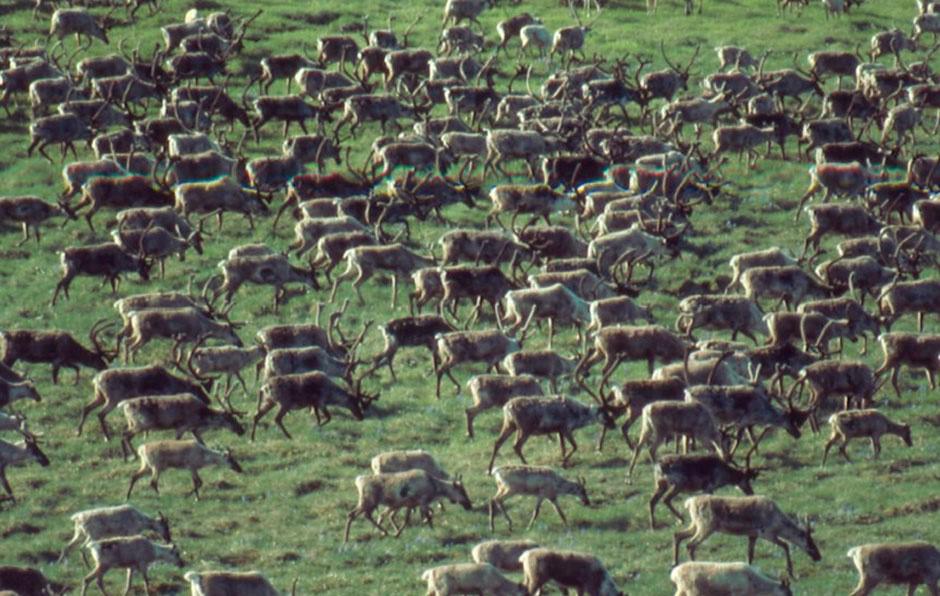 A tax bill making its way through Washington, would allow drilling in the Porcupine Caribou Herd's calving grounds. Photo: Porcupine Caribou Management Board/Alaska Fish and Game.
A member of the Old Crow based First Nation is back from a trip to D.C., and says the U.S. government will continue to hear about the Porcupine Caribou herd as a bill allowing drilling in the Arctic National Wildlife Refuge is closer to law.
A councillor with the Vuntut Gwitchin First Nation says while drilling in the Arctic National Wildlife Refuge is part of a bill in the U.S. Capital that seems to be moving toward law, there's a small window of opportunity to change the situation.
Dana Tizya-Tramm was in Washington earlier this month to see debate on the bill in congress, and tells reporters the Gwitchin have not ruled out legal action, and will be stepping up their efforts in D.C. before the bill heads to the President.
He says there was not much congress debate, as Alaska Senator Lisa Murkowski had already pre-determined the outcome.
"Senator Murkowski had secured the votes to win before she had ever walked in there." Tizya-Tramm said.
"So she simply was going through the motions sitting in there running the gauntlet of sharp criticism from the Democrats, but she had (the vote) lock, stock, and barrel the whole entire time."
Tizya-Tramm says it was hard to watch others decide the fate of an area they have never visited.
"We get painted with a single colour that we are just against development, but really we are for responsible development." he added.
"The Gwitchin nation's stance on this is we will not compromise on this issue, as there is no room for compromise in the coastal plain."
He says the Gwitchin will never give up trying to protect the Porcupine Caribou Herd.