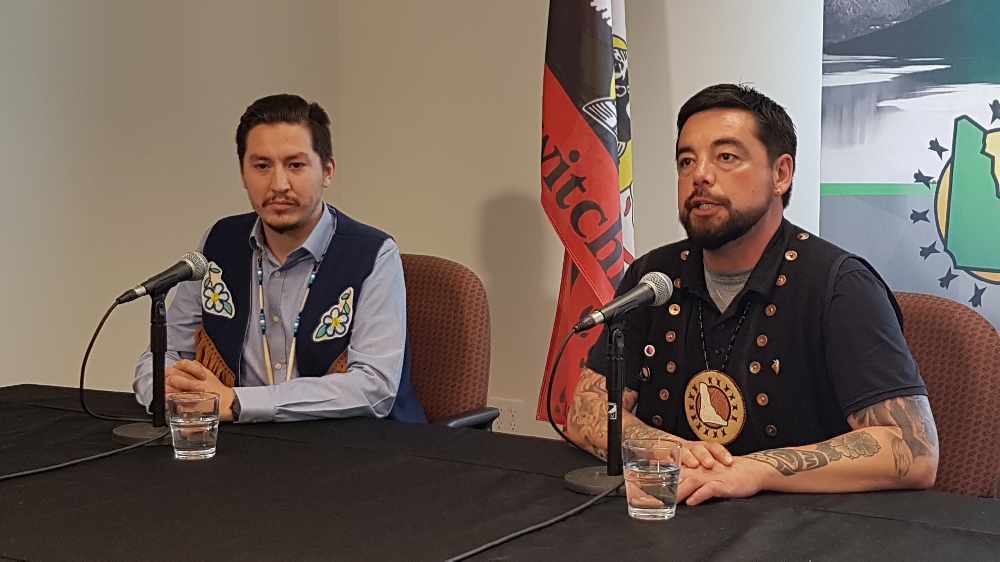 VG Chief Dana Tizya-Tramm (left) and CYFN Grand Chief Peter Johnston field questions from the media Wednesday afternoon. Photo: Tim Kucharuk/CKRW.
The Vuntut Gwitchin First Nation and Council of Yukon First Nations formalized a return during a leadership meeting held in Whitehorse on Wednesday.
After an 11 year hiatus, the Vuntut Gwitchin First Nation is returning to the leadership table of the Council of Yukon First Nations.
The First Nation is back but as an associate member of CYFN with the agreement formalized Wednesday.
CYFN Grand Chief Peter Johnston says the timing was good to bring the Vuntut Gwitchin back into the fold, as climate change and education are priorities for both.
"We've had many different chances as an organization over (the past) couple years to express and to show the great work that we're doing," Johnston told reporters. "We as an organization (have) taken that work responsibility, but more importantly given that responsibility back to the nations; especially when it comes to such precious things as our children, but also when it comes to language and other important things that we're doing."
Current Chief Dana Tizya-Tramm says every Indigenous organization is working toward a better Canada whether they know it or not.
"As we share that vision of Canada, it makes absolute sense to re-engage with CYFN in that meaningful way and open up that next chapter," Tizya-Tramm said. "With the organization ensuring that these benefits benefit both of our organizations."
Former Vuntut Chief, the late Joe Linklater, pulled the First Nation out of CYFN in 2008 to focus on implementing its land claims and self-government agreements.
Tizya-Tramm says the First Nation now has certainty around lands and within the organization.
The directive came from Vuntut citizens at this summer's General Assembly, and Tizya-Tramm says next year's GA could see approval to apply for full membership.
The Vuntut Gwitchin First Nation (@ACaribouPeople) and Council of Yukon First Nations announce VGFN has returned as an associate member of CYFN. The Old Crow based FN took a step back in 2008 to focus on its agreements. pic.twitter.com/xATbuxPYCQ

— Tim Kucharuk (@TimKucharuk) October 2, 2019