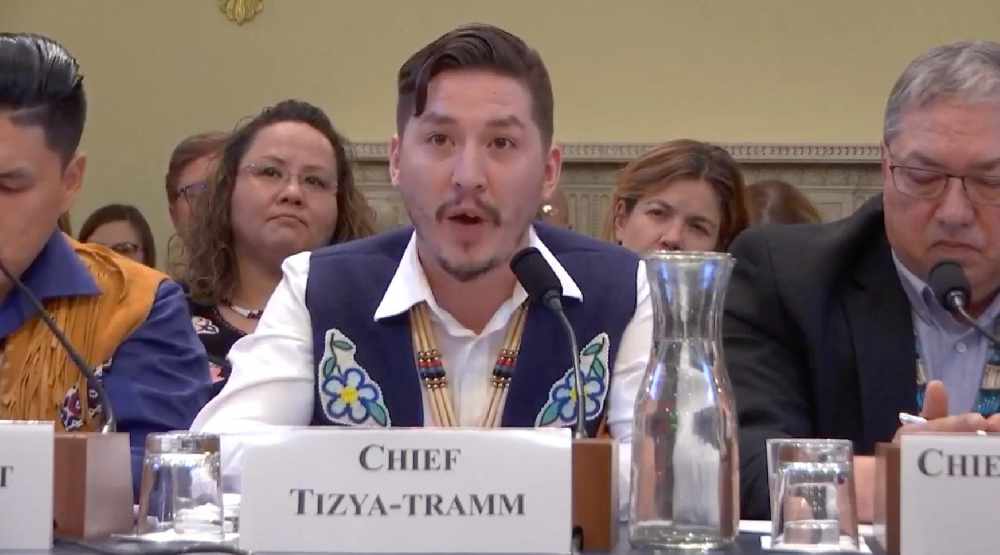 Chief Dana Tizya-Tramm speaks in Washington, D.C. on Tuesday. Photo: Wilderness Society/Twitter.
Dana Tizya-Tramm was part of a delegation of Gwich'in leaders from Canada and Alaska who addressed a bill which would halt development in the Arctic National Wildlife Refuge.
It was a powerful day for the Gwich'in people of Yukon and Alaska in Washington, D.C.
A delegation made a presentation to the U.S. House Committee on Natural Resources supporting a bill which would repeal an oil and gas program for the Arctic National Wildlife Refuge.
Vuntut Gwitchin First Nation Chief Dana Tizya-Tramm told the committee the Porcupine Caribou Herd which roam the refuge are critical to the future of the Gwitchin people.
"The immense value of their calving grounds was recognized on this day over a millennia ago, and why today all Gwitchin call it, "Iizhiik Gwats'an Gwand'aii Good'lit", "the Sacred Place Where Life Begins." Tizya-Tramm said.
He also told the committee the caribou is the lifeblood of his people.
"Every region the identity of our people, reflected in our names to represent the body of our persons, and the deep understanding of our belonging to these lands," he said. "We are all Gwich'in, and we are a caribou people."
In his opening statement, subcommittee chair Alan Lowenthal, a Democratic congressman from New York, told the committee the part of 2017's overreaching tax bill which opened the area to development was rushed.
He added as witnessed on the western plain of Alaska, the impacts of oil and gas are irreversible.
President Dwight Eisenhower first initiated protection of the Arctic coastal plain in 1960, and the refuge itself was established in 1980.