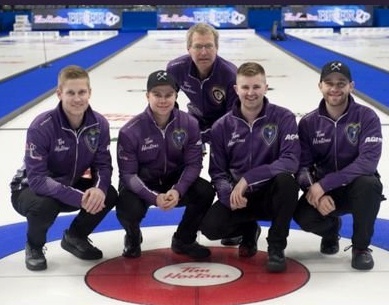 Team Scoffin will not compete in the 2021 Yukon Men's Curling Championships. Photo: @TeamScoffin / Twitter
Team Scoffin will not qualify to compete at the Tim Horton's Brier.
The Yukon Curling Association has deemed Team Scoffin ineligible from competing in the Yukon Men's Curling Championship. The decision prevents team Scoffin from trying to qualify for the Tim Horton's Brier in Calgary.
The YCA declared the team ineligible because one of their registered players is living in Alberta, and would not be competing, due to COVID-19 travel restrictions. The team felt that they were making the safe decision in keeping their player in Alberta, but the YCA says the travel restrictions are not extenuating circumstances that are accepted by the Executive Committee.
In a statement, the team says they believed that competing with three of four registered players would be in compliance with the rules, but the YCA required all registered players to compete.
The release says that the YCA's opinion was that travel restrictions were not extenuating circumstances for a player not being available to compete.
A statement provided by the YCA says that the team knowingly registered for the event even though they knew they would be missing a player, and that Team Scoffin notified the YCA four days after the registration deadline that they would only have three players.
YCA says to allow Team Scoffin to play with three players, or to substitute a fourth player at this late date, is not only unfair to other teams, but it is not in accordance with YCA policies, mission statement, or goals and objectives of the association.
Team Scoffin says that while they accept the decision, they feel the decision does not reflect the values, rules, and ethics of curling.
The team unsuccessfully appealed their ineligibility, before accepting the decision.