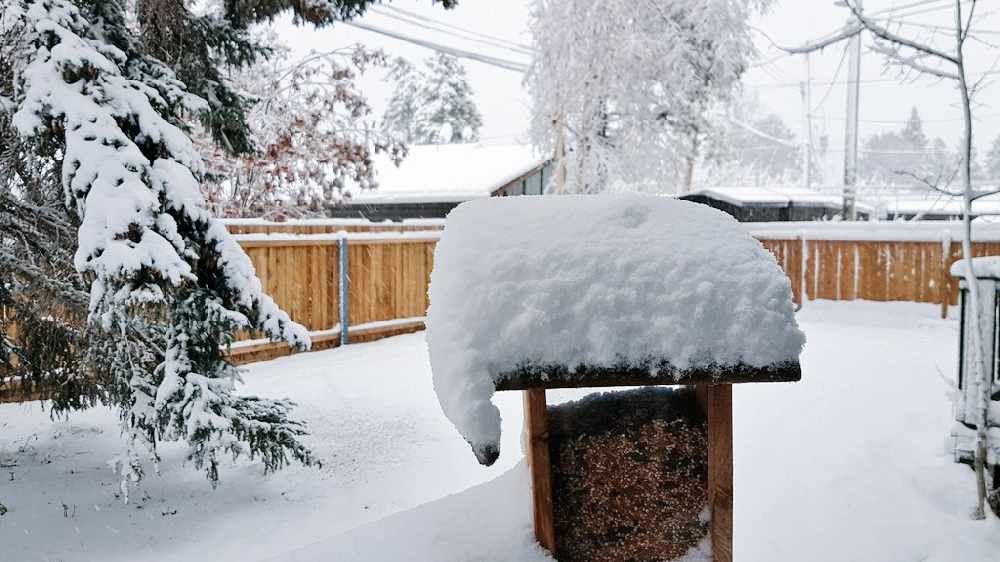 It's a winter wonderland in southern Yukon. Photo: Tim Kucharuk/CKRW.
Power outages and slippery roads and sidewalks marked the first significant snowfall of the season starting Saturday night.
ATCO Electric Yukon says all major areas affected by this weekend's power outages in southern Yukon are back on.
Manager Jay Massie says as of 10 a.m. Monday, crews had completed restoration to customers in the Marsh Lake and Southern Lakes areas, however, there may be individual customers without power. He said crews would be patrolling Marsh Lake to make sure all customers had power.
Massie says the wet, heavy snow, combined with some leaves still on unfrozen trees led to the disruptions for 5,500 customers from the Deep Creek area north of Whitehorse to Teslin.
"The trees on the power lines were causing faults, (and) breaking the power lines," Massie told the RUSH. "We got fairly lucky. No broken poles. We definitely had to fix a few things out there besides the wire, but we haven't had to replace any poles as of yet anyway."
Massie does caution the public if you do encounter a downed tree on power lines, to stay 10 metres back, and to call ATCO Electric Yukon.
Meantime, Environment Canada says the Whitehorse area has received almost the average monthly October snowfall in just 24 hours.
Meteorologist Bobby Sekhon says the airport received 16 centimetres of snow on the weekend, with other areas of southern Yukon getting between 15 and 20 centimetres.
"This is (a) fairly significant snowfall for this time in October," Sekhon said. "The average monthly snowfall for Whitehorse is about 18 centimetres. So we've received a large chunk of that average in about 24 hours."
Sekhon says daytime highs will be around the freezing mark until Thursday, then the melt will kick in with a temperature of eight degrees.
He says more snow is in the forecast this weekend.
(This is an updated story. The previous version is below.)
______________________
The weekend snowfall in southern Yukon kept crews with ATCO Electric Yukon busy tending to power outages.
About 15 to 20 centimetres of heavy, wet snow began falling Saturday night, and stretched into Sunday, causing trees to come down on power lines.
ATCO Electric Yukon says about 5,500 customers were affected throughout the weekend, and crews were working through last night as the weather allowed.
The first major outage hit parts of Porter Creek just before midnight, and while power was restored, sporadic outages occurred throughout the night, which also spread to other northern sections of the city, stretching from Whistle Bend to Deep Creek.
Another major outage hit the same areas from mid-yesterday morning, until early afternoon, with localized outages in Tagish, Pelly, Takhini, and down the Carcross Road.
ATCO says a big chunk of the Southern Lakes area, from the Carcross Cutoff through Marsh Lake, and down to Teslin was affected starting Sunday morning, with outages continuing through the night.
Environment Canada did issue a snowfall warning Saturday morning for Whitehorse and Haines Junction, which was not lifted until mid-day Sunday.
As for the roads, Yukon 511 says many highways are slushy and wet with black ice and snow cover.
Travel advisories were in effect Monday morning on the Alaska Highway in the Burwash Landing area north of Haines Junction, as well as the South Klondike Highway south of Carcross.