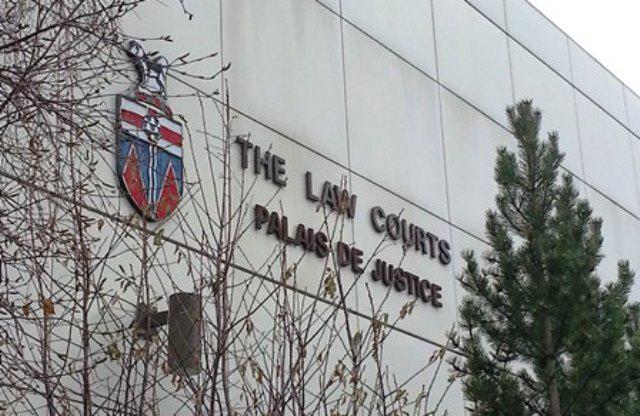 Photo: Tim Kucharuk/CKRW file.
Darryl Sheepway's former spouse describes for Yukon Supreme Court his 'double life' of drug use leading up to late August of 2015, when Christopher Brisson was shot and killed.
The ex-wife of a man accused of killing a Whitehorse resident in August of 2015 has taken the stand at his murder trial.
The woman, who the RUSH is choosing not to name, was granted an order to testify via closed circuit television at the Yukon Supreme Court trial of 39-year-old Darryl Sheepway Tuesday, who is accused of killing 25-year-old Christopher Brisson.
The former wife has not seen Sheepway since the murder charge was laid in August of 2016, and in the woman's interest, she is not being named in this story even though there is no court order prohibiting her from being named.
As his former wife faced questions from lawyers over the span of a few hours, Sheepway was visibly upset, burying his head in his arms on the table in front of him, sobbing sometimes uncontrollably.
She testified she was suspicious of Sheepway's marijuana habit, but that escalated when she discovered $1,200 in cash advances taken on her credit card over the span of several weeks on August 28th, 2015.
The woman told court Sheepway at first denied it, but later when she got home from seeing a friend, Sheepway told her about taking the money and using crack.
She says Sheepway agreed to go to detox, and the family spent the day together, with Sheepway suggesting they stop and take a photo on the Miles Canyon Suspension Bridge as he was going to be away for awhile.
When Brisson's body was found a few days later, he told her that was his drug dealer, and later, she got a call from RCMP, as her number came up in Brisson's phone records.
Sheepway eventually ended up in rehab in Ontario, but then came back to Whitehorse, where the couple became estranged.
He rented an apartment for a few months, and during that time, she got a call from him saying he was far away, was going to kill himself, and told her he killed 'that guy.'
She reported the conversation to RCMP, who arrested Sheepway in Prince George, and brought him back to Whitehorse.
The trial continues Wednesday.