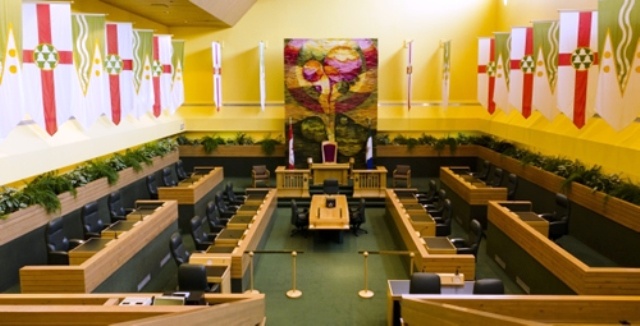 (Yukon Legislative Assembly)
Yukon Premier Sandy Silver says he is working with all levels of government in the fight to protect the Arctic National Wildlife Refuge.
Yukon's Premier says his government is working on a focused effort to protect the Arctic National Wildlife Refuge.
Speaking to the legislative assembly yesterday, Sandy Silver says the United States government is working to open up drilling in ANWR which could affect the calving grounds of the Porcupine Caribou herd but efforts are still being made to protect it.
"Government officials are working very closely with Vuntut Gwitchin First Nation, environmental NGO's, and partners in both houses of Congress to coordinate efforts aimed at protecting ANWR and the Procupine Caribou Herd. We have signed an agreement with the Vuntut Gwitchin First Nation to continue the government's financial support of the lobbying work they do."
Yukon Party MLA for Kluane Wade Istchenko, and leader of the NDP Liz Hanson spoke in support of the various efforts being undertaken on the file and Yukon Premier Sandy Silver says he has used every opportunity to protect the herd.
"Any opportunity to discuss ANWR on the national level, whether it be for myself, the minister of the environment, our department officials. We always always take-up the opportunity to speak about ANWR whether it be at COF, the council of the federation, the First Ministers meeting, the federal, provincial, territorial meetings."
Silver says he is working on developing a stronger, coordinated, political approach and the issue will be raised during meetings with Environment Ministers next week.