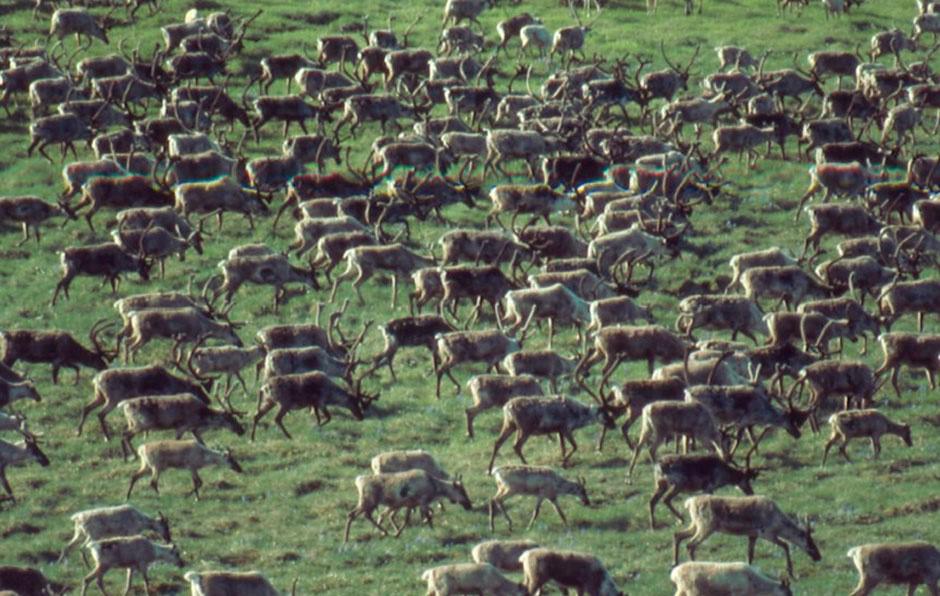 Yukoners are in Washington to lobby for protection of the Porcupine Caribou Herd in Alaska. Photo: Porcupine Caribou Management Board/Alaska Dept. of Fish and Game.
A delegation is meeting with U.S. Government officials Monday, as a budget move threatens to open the herd's calving grounds to oil and gas drilling.
A Yukon delegation is in Washington, D.C. Monday urging the protection of the Porcupine Caribou Herd in the Arctic National Wildlife Refuge.
Ahead of their trip late Friday, The Yukon Government, Vuntut Gwitchin First Nation, and Gwich'in Tribal Council issued a statement saying the opening of the Alaskan costal plain to commercial development such as oil and gas drilling will be severely detrimental to the Herd.
The government and First Nations sent a letter last Wednesday to Alaska Senator Lisa Murkowski, and Washington Senator Maria Cantwell, after a budget resolution was passed October 26th in Congress, moving the prospects of drilling in the Refuge closer to reality.
Yukon Premier Sandy Silver says the government is committed to this cause, and urges Yukoners to add their voices to this important effort.
The heard uses nearly eight-thousand square miles of the coastal plain under already existing government protections as their calving grounds.