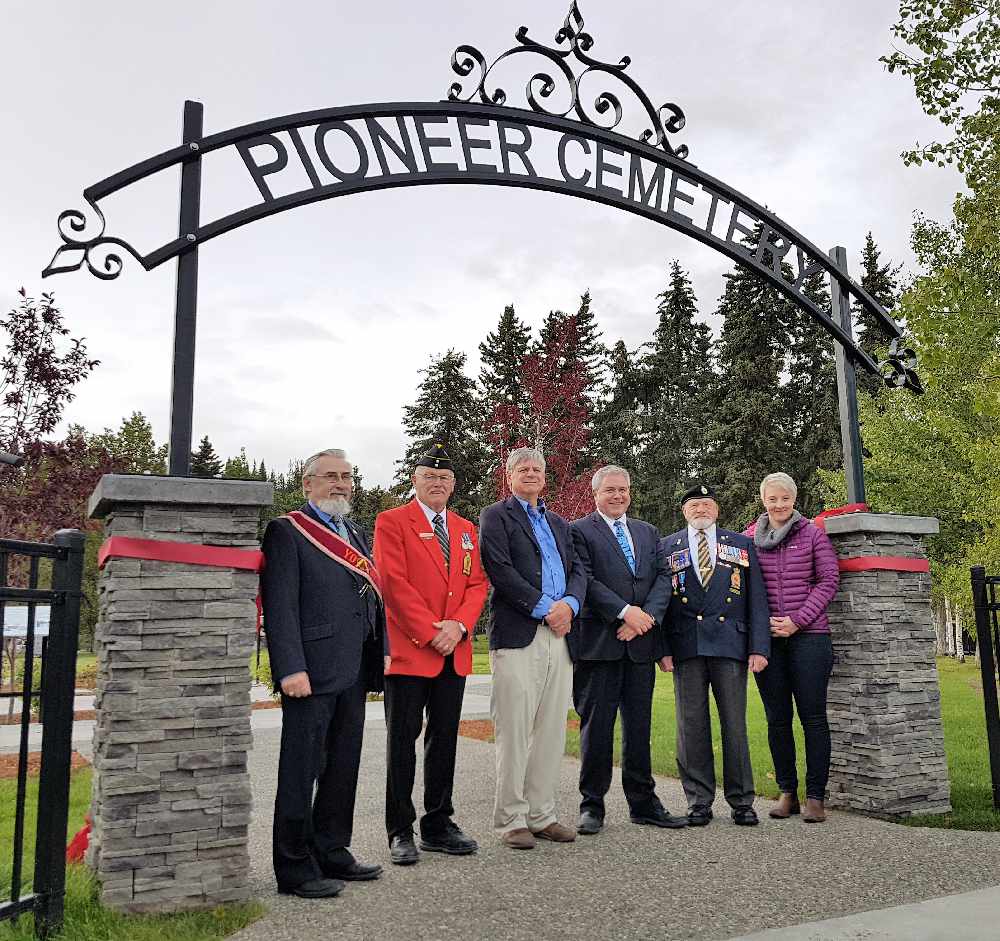 (L to R) YOOP's Gordon Steele, Committee Member Helmer Hermanson, MP Larry Bagnell, Mayor Dan Curtis, the Legion's Red Grossinger, and Pavlina Sudrich from the Downtown Residents Association. Photo: Tim Kucharuk/CKRW
The downtown resting place for many Yukon pioneers received $500,000 in upgrades thanks to the work of many community groups, and governments.
The Pioneer Cemetery restoration project in downtown Whitehorse is now complete.
A ribbon cutting ceremony was held at the gates of the refurbished grounds Wednesday afternoon, with speeches from dignitaries and partners in the $500,000 dollar project.
The project was first brought to city council by the late Grant Lundy from the Yukon Order of Pioneers in 2012, with the Yukon RCMP Veterans Association, Royal Canadian Legion Branch 254 in Whitehorse, the city, and federal government also part of the restoration.
Helmer Hermanson with the RCMP Veterans Association was on the organizing committee.
"We hadn't anticipated it was going to be six years or more." Hermanson said after the ceremony.
"But in the end we have, I think, a good showing for the money and effort put into it."
City Parks Supervisor Marc Boulerice says the main part of the project was raising 200 headstones, and identifying where plots were located.
"Big part of the job has been to install markers to identify those plots." Boulerice said.
"Another part of it has simply been the entrance plaza. To really formalize the entrance to the cemetery, and as part of that has been adding the perimeter fencing to try and enclose that space a little bit."
The work also included a paved walking trail, and landscaping.
The cemetery contains many of Yukon's pioneers, including former Yukon MP Martha Louise Black.
The official ribbon cutting for the Pioneer Cemetery in downtown #Whitehorse Wednesday afternoon. pic.twitter.com/csemHuotcK

— Tim Kucharuk (@TimKucharuk) September 5, 2018