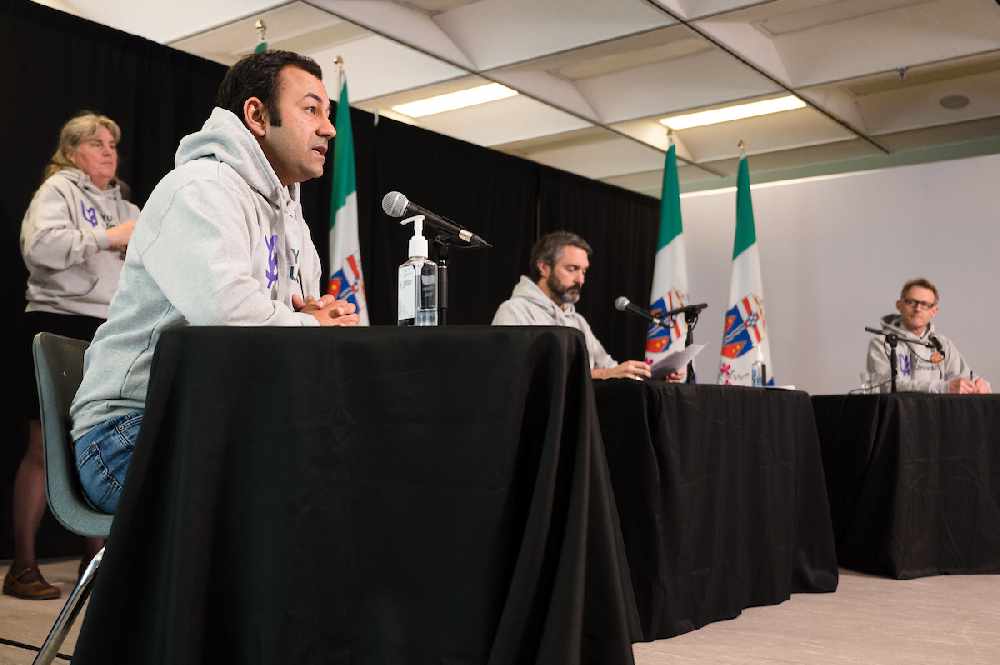 Minister Ranj Pillai, (seated left) Premier Sandy Silver, (centre) and CMOH Dr. Brendan Hanley (right) at Friday's update. Photo: Alistair Maitland/Yukon Government.
In Friday afternoon's briefing Premier Sandy Silver clarified reopening plan timelines and announced daycare restrictions lifted; Minister Ranj Pillai rolls out wage top-up program.
Yukon's Premier says the territory's reopening plan is in sync with other jurisdictions, and even ahead of some due to the work of Yukoners.
At a media update Friday afternoon Sandy Silver addressed the concern over the plan not providing any hard dates for each phase saying the exact timelines of the virus are unknown.
"We began with a hard start date of May the 15th to begin relaxing restrictions," Silver said. "Moving to the next phase, this will happen when the criteria are met."
"We have a transition period of two to four weeks which will be applied to inform Yukoners of this change to allow for preparations."
Silver also announced orders will be lifted on personal services and restaurants in the territory.
Pending operational plan approval, personal services businesses can reopen next Wednesday, May 27th, and restaurants next Friday, May 29th.
Chief Medical Officer of Health Dr. Brendan Hanley says he knows some restaurants will have trouble with the order to reduce seating capacity by 50 percent to accommodate physical distancing.
"I know this is being received with mixed reactions," Hanley said.
"This is what we need to do as we start the reopening: proceed slowly, assess for stability, and move to the next steps when we are confident."
Hanley later said about 15 plans have been submitted and approved so far.
Silver also announced licensed child care operators can now accept children from all Yukon families.
"This means pre-school, daycare, or day home operators can welcome back children who previously attended their centres," Silver said.
There are no active cases in the territory. 1,145 people have been tested, and there are five pending results.
Worker Wage Boost
Meantime, Economic Development Minister Ranj Pillai also announced during Friday's update a wage top-up program for low-income essential workers.
The Yukon Essential Workers Income Support Program provides up to $4 an hour to a maximum of $20 per hour for up to 16 weeks.
"Yukon's essential workers have continued to offer the services and goods that we all need in our daily lives," Pillai said.
"There are many critical sectors that will benefit greatly from this program."
Pillai adds one of the key requirements for the top-up includes not having previously applied for the Canada Emergency Response Benefit.
A release says the funding will also be applied in partnership with the newly announced wage subsidy for critical and essential service positions through the Department of Education's Staffing Up labour market funding program.
(With reporting by John Kennedy)
.@Premier_Silver on going forward and why there's no firm dates in the reopening plan. pic.twitter.com/8sYIOnMEMn

— Tim Kucharuk (@TimKucharuk) May 22, 2020